Acer Aspire Ethos 8943G 18.4in laptop
Full HD desktop replacement with plenty of poke
Review Stylish and powerful, the new 18.4in Aspire Ethos 8943G will appeal to those looking for a desktop replacement that doesn't hold back on performance. Each of the four cores on the Core i7-720QM purr along at 1.6GHz, while ATI's Mobility Radeon HD 5650 is on hand should you want to indulge in a bit of gaming. Throw in a Blu-ray drive, and the cost of the components starts to rise, pushing the laptop's price well over the £1,000 mark.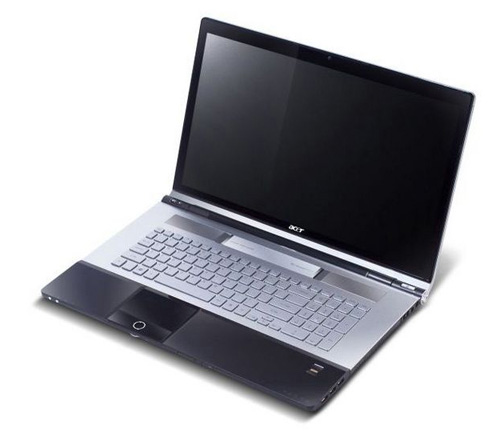 Acer's Aspire Ethos 8943G: fancy design, powerful components
First impressions were soured ever-so-slightly by the lid being awkward to open – with no indent to welcome your fingers, it takes a bit of grappling. However, once prised apart, you're greeted by a rather eye-catching keyboard. Like the lid, it's all decked out in silver and follows the popular chiclet design.
As ever, exactly how easy you find it to type on will depend on your style of key bashing. The flat keys won't suit all tastes, having a slippery texture it is a little too easy to tumble onto neighbouring keys.
That said, there's good distance between them and there are no odd key placements. Disappointingly, I noticed a fair amount of flex on the keyboard, which is never pleasing to discover when you're splashing out well over a grand.
The 18.4in screen has a Full HD resolution of 1920 x 1080. Yet, despite the glossy coating, the colours aren't as vibrant as on other laptops I've seen. Plus, of course, having a glossy coating on such a large display turns it into a portable mirror if used near a light source.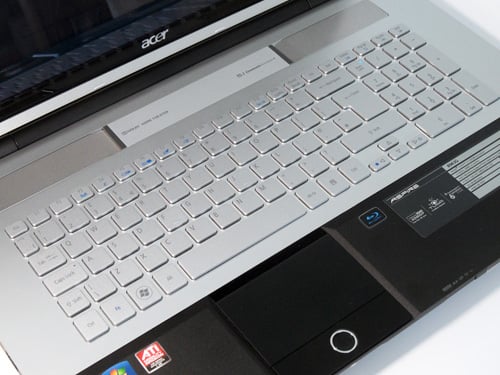 An attractive, but somewhat slippery keyboard
One slight concern was that after leaving it in direct sunlight for an hour or so, I noticed a small patch of what looked like condensation on the display. This soon cleared up, but it's not something I've noticed on other laptops.