In terms of handling, it's a little awkward. It's good to hold but tricky to position and inevitably a little heavy, and there's some fumbling around to find the shutter button. There's a bit of a parallax issue - the angle between viewfinder and lens is rather steep, making shots quite tricky to frame. I found shots came out with considerable amounts of spare space above my subject's head, or to the side.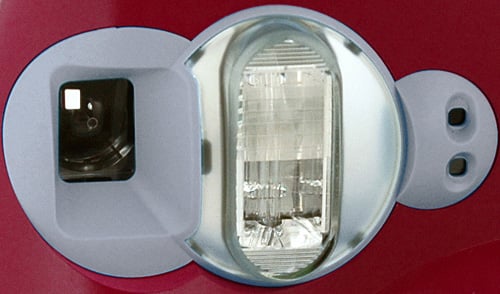 The simple optical viewfinder can take some getting used to
Still, it's easy enough to use, and you'd have to be remarkably uncoordinated to mess up shots completely. I quickly realised I had to forget all my usual digital habits and just point and click with abandon. That's how the camera is meant to be used – it's for snapshots, not pictures. Once you lose your exacting inhibitions, it's fun - like clacking away on a typewriter after years of PC use.
After you pluck the virginal undeveloped print from the top of the camera, it's very hard to resist taking the OutKast route and flapping it wildly to and fro - that was always part of the fun. But the instructions sternly tell you that this isn't a good idea. Boo.
However, it's still hugely enjoyable to watch the image develop, turning from smudges and blotches into a fully-formed photo within about 90 seconds. Each shot comes out with that delightful desaturated look, with the muted colours making every photo appear to have been taken in 1983. It's a lovely side-effect of the process – who needs Hipstamatic?
I tried out all four settings, but it quickly became clear that the default setting - indoor/dark - is the one the 300 was built for. Taking party snaps in darkened pubs or clubs is usually an unfulfilling endeavour, beset by red-eye and white-out. But this is where the 300 is in its element.
Indoor shots taken during the day came out beautifully, and some taken at night - in the extreme conditions of a very dimly-lit basement bar - came out a treat, with none of the usual pesky issues. The flash setting is apparently just right, and the focus was spot on.