S&M for accessing hotel services
This app will not only help a user book a room and check in and out of it, but also — with third-party assistance — handle such in-room amenities as heating and ventilation, sound and video systems, coffeemaker, and the like.
In addition, the application would be able to help a hotel visitor find "local restaurants, shops, attractions, and other suitable services" in the vacinity of the hotel, and — of course — provide maps to their locations, online reservations, and secure communication services for payments.
The application could be used to draw a bath at a user-chosen temperature, schedule a wake-up call, order room service, or purchase pay-per-view movies — although, presumably, this being an Apple patent, movies such as Kitten Natividad's magnum opus, Bodacious Ta' Ta's, won't be welcome.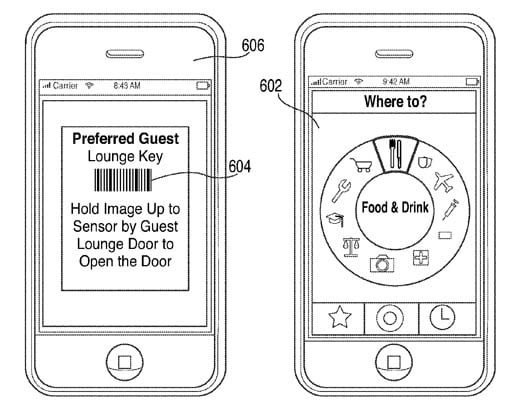 Bar-code keys could prove your worthiness to enter the VIP lounge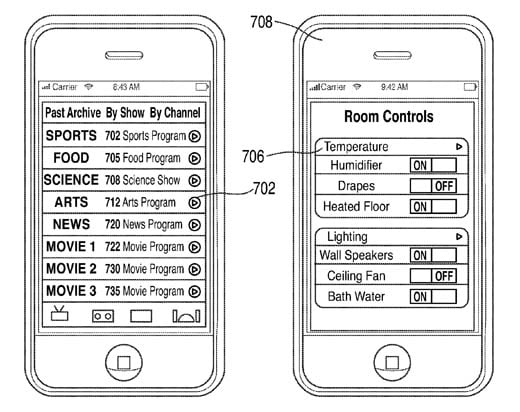 Browse TV shows and control your room's ambiance, all from your iOS device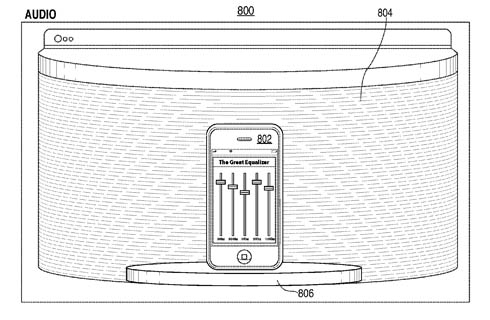 Speaker makers will be lining up at the Hilton purchasing office, should this come to pass
S&M for accessing travel services
As with the hotel-services app, the travel-services filing details the ability for an app to make and track reservations, plus provide the power to use the iOS device's location-sensing capabilities to notify third parties (mom, dad, wifey, the kids) when the traveler has reached his or her destination.
A broad range of other capabilities are detailed, as well, such as the ability to purchase "in-flight dining and entertainment options" and tickets to connecting flights or train trips, provide directions and maps to nearby restaurants and other sites (and sights), and other travelers' aids.
With appropriate tech support from a participating airline or railroad, a traveler could also control "aspects of their seating area such as seat adjustments, lighting, air temperature, audio volume, radio channel, television channel, or other aspects through the integrated interface."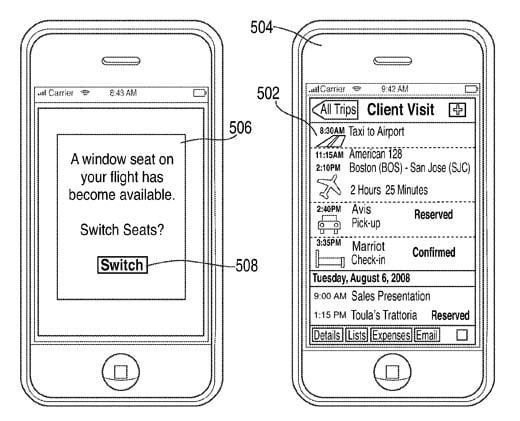 Switch your seat, schedule your itinerary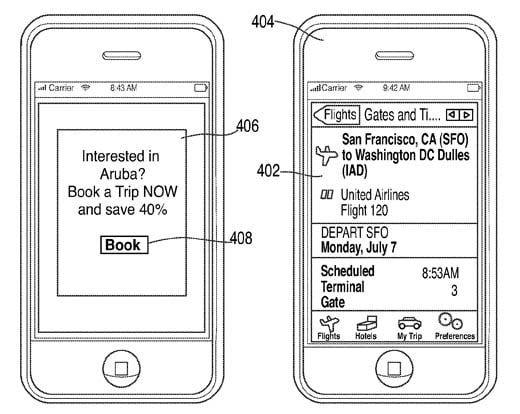 While on a business trip to Dulles, be tempted by a discounted flight to Aruba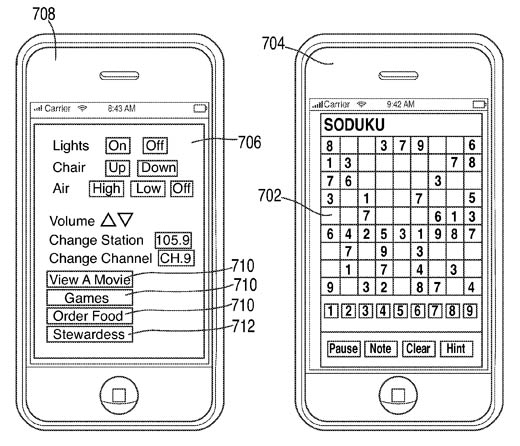 Someone needs to tell Apple that stewardesses have been called flight attendants for years
It remains to be seen, of course, whether these three mobile-application patent filings are merely the tip of a patent-acquisition iceberg, to be followed by a flood of other such Apple applications over which the USPTO is mulling at this very moment.
Perhaps next week another trio of filings will appear, attempting to patent another set of services that are currently offered primarily by websites upon which Google has placed advertising.
If so, Apple's goal of an app-based mobile ecosystem — and the death of that pesky Google-infested browser — will be that much closer. ®
Bootnote
Your Reg reporter has been following Apple patents for quite some time, and has frequently been amused by their accompanying illustrations. Thursday's "high-fashion" filing included one of the finer examples in recent memory: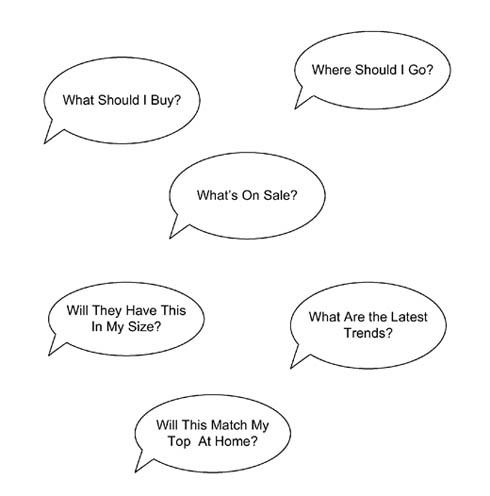 Decisions, decisions — who said the life of a fashionista is all glamour?
This figure, in true patentese, is described as a "schematic view of several situations during which a user can make use of a single, integrated application in the context of the fashion industry in accordance with some embodiments of the invention." But you knew that, eh?
Similar topics