Android surges past iPhone in smartphone sales
RIM and Windows Mobile continue to slide
---
Sales of Android-based smartphones are surging, tearing chunks of market share out of Apple, RIM, and Windows Mobile's hides.
According to a report released Monday by the analysts at The Nielsen Company, although RIM and Apple still hold their number one and two positions as the top two suppliers of smartphones in the US, Android phones are catching up — fast.
According to Nielsen's figures, among new subscribers in the past six months, those picking up Android phones inched past iPhone buyers in the second quarter of this year, garnering a 27 per cent market share to the iPhone's 23 per cent.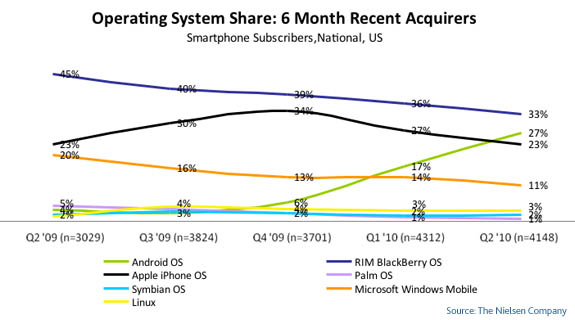 Here comes Android...
In addition, a separate report by the market watchers at Canalys pegs Android-phone growth at a whopping 886 per cent from the second quarter of 2009 to the same quarter this year.
Both info-nuggets, however, carry hefty caveats. The iPhone 4 shipped on June 24, right before the quarter ended. Its 1.7 million first-weekend sales are presumably included among the Nielsen numbers, but sales of the Jobsian handheld — antennagate or no antennagate — have been strong during the ensuing weeks. A true iPhone v. Android analysis must wait until the iPhone 4 has a full quarter in the sun.
The Canalys number, also, is to be taken with an exceptionally large helping of caution, seeing as how an 886 per cent growth from a tiny number — Android sales in the second quarter of 2009 — is not a realistic metric. The Android-based Motorola Droid, for example, didn't see the light of day until November of that year.
Even with those cautions in mind, however, the growth of Android is not to be taken lightly if you happen to occupy a corner office in Cupertino, California, or Waterloo, Ontario. Nielsen's numbers, for example, put RIM's six-month market share at 45 per cent in the second quarter of 2009, but by the same period this year it has slid to 33 per cent.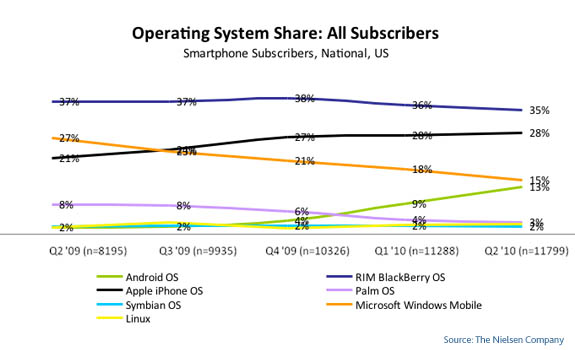 ...and there goes RIM and Windows Mobile
Even more worrisome to those enterprising Canadians is RIM's comparatively poor performance when Nielsen asked current owners of Android, iPhone, and BlackBerry phones which type of phone they'd consider for their next purchase. Only 42 per cent of BlackBerry owners said they'd stick with their current brand, while 71 per cent of Android owners and a full 89 per cent of iPhone owners planned to remain loyal to their respective OSes.
And speaking of corner offices, there can't be many smiles in Redmond, Washington, either. Windows Mobile held a 27 per cent US-smartphone market share in the second quarter of 2009, according to Nielsen, but that number had shrunk to 15 per cent by the second quarter of this year.
With the rise of Android and the continuing popularity of the iPhone, BlackBerry OS 6.0 and Windows Phone 7 will have their work cut out for them. ®