Win 7 up, Mac OS X down in market share wars
XP still king of the hill - by far
The latest operating system market-share figures are in, and the news is good for fans of Windows 7, and ho-hum for Mac OS X aficionados.
Since its release last October, Windows 7's star has been steadily rising — and this July it passed the lamentable Windows Vista to become the world's number-two OS, according to stats from the market watchers at Net Applications.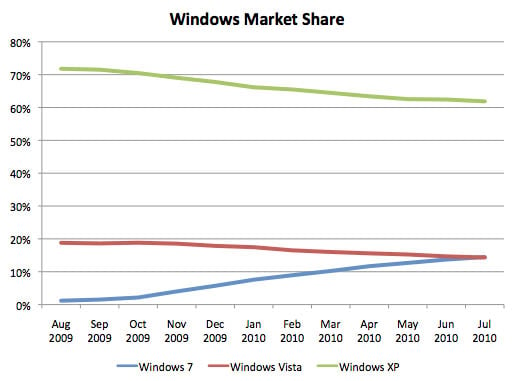 Windows 7's share continues to increase, although XP's decline is slowing
Although no web-based market-share data is bulletproof, Net Applications methodology is better than most: it aggregates information from around 160 million visits per month to the 40,000 websites it monitors.
The data that Net Applications accumulated over the past few months also shows that Mac OS X's market share is stagnant — even slipping marginally as Windows 7 fuels a PC-buying surge. Considering the recent growth in Mac sales, the slight decline in Mac market share is surprising, and indicates that PC sales are healthy, as well.
Those sales appear to be fueled by a rapid adoption of Windows 7, which in July edged a tiny 0.12 per cent ahead of Vista.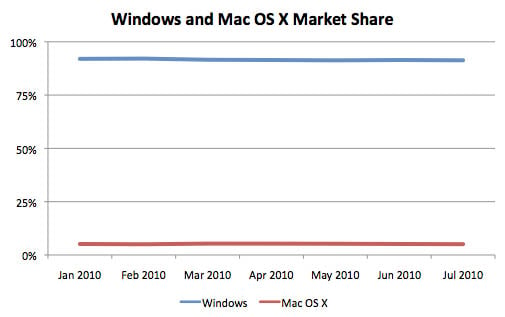 Possibly the dullest chart in Reg history shows Windows and Mac market-share stability
The reigning operating system, of course, remains Windows XP, which will turn nine years old this October 25 — a ripe old age for operating systems.
Interestingly, although Windows XP's share began to decline in a relatively steep slope beginning with the release of Windows 7, that drop has flattened out in recent months — the venerable OS's share has slipped a mere 0.7 per cent since May of this year.
During that same period, Windows 7's share rose from 12.7 per cent to 14.5 per cent, squeaking past Vista but still far behind XP's July share of 61.9 per cent.
Taken together, the market share of all three versions of Windows dwarf that of Mac OS X: 91.3 per cent to just over 5 per cent. The Mac OS has seen a gradual — if marginal — decline since its market share peaked in March of this year at just over 5.3 per cent.
Oh, and Linux? In July it slipped to 0.93 per cent, according to Net Applications, while the iPhone OS (someone needs to tell Net Applications it's now called iOS), rose to 0.7 per cent of all operating systems worldwide, up from 0.3 per cent during the same month last year. ®