Review Wacom may be best known for its standalone, pressure-sensitive tablets, but its current flagship product is a 21-inch LCD monitor, but with a difference. The whole screen of the Cintiq 21UX is one enormous graphics tablet that you can draw on directly.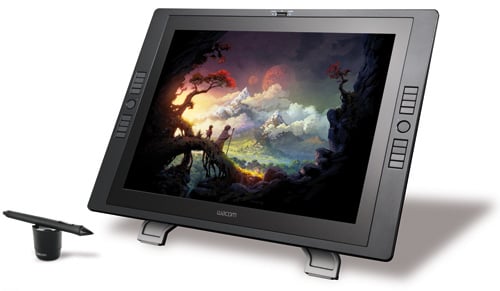 Drawing board: Wacom's Cintiq 21UX
In essence, the Cintiq 21UX eliminates the need to master a tablet as a separate piece of kit – where you would look in one place while drawing in another ¬¬– enabling you to work on an image without anything getting in your way. Curiously, the screen has a 4:3 aspect ratio, rather than widescreen, which initially feels like a backward step. After years of widescreen displays, I have to admit I found this display areas uncomfortably narrow.
The tablet comes with a sturdy multi-position mount. You can place it at any angle from virtually vertical to almost flat and rotate the screen to any position. The Cintiq's versatile positioning helps to address the main problem with drawing directly on-screen, namely, the artist's hand obscures the image. By contrast, with a conventional tablet to the side of the monitor, it's possible always to see the entire image without impediment.
Raising the Cintiq 21UX up on a stand also means a keyboard can be placed beneath and in front of it, giving access to all the shortcuts and modifier keys essential for designers. This was a major problem with earlier Cintiq devices, and again it has been neatly overcome. It's also just about possible to remove the tablet from the stand and hold it in a lap, although it's such a heavy device that few would find this comfortable for long.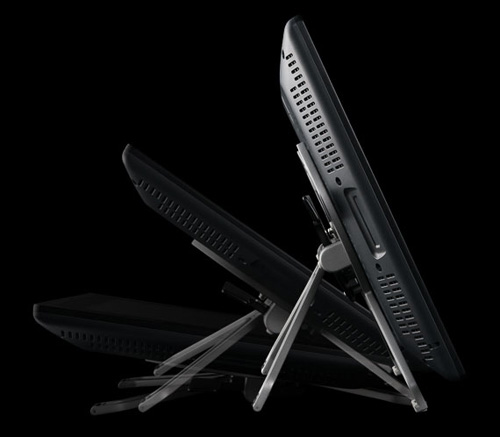 Can be positioned to suit most drawing preferences
Eight Express keys on either side of the tablet's edge can be customised to perform any function you choose, from triggering Photoshop Actions to holding modifier keys. Modifiers are essential to in applications such as Photoshop; to constrain selections, pop up contextual menus and to modify tool behaviour. Having these located on the tablet border is a good idea in principle, but there are a couple of problems.