Wiki crew launch attack on FBI official seal bluster
Permission denied, but what the hell!
---
A silly row between US feds and Wikimedia has kicked off over the fiddlers' use of the Feds' official seal.
The New York Times reports that the Federal Bureau of Investigation penned a letter to the Wikimedia Foundation in July demanding that it remove an image of the FBI seal from a Wikipedia "article" about the feds.
"Failure to comply may result in further legal action. We appreciate your timely attention to this matter," it thundered.
However, as of today the FBI seal image remains on the Wikipedia page and can also, helpfully, be found via the Wikimedia commons page here.
Officially, the FBI does not provide a JPEG or other file format of the seal on its multimedia page. Reassuringly, Fed fans, there is a free photo of a badge and a gun.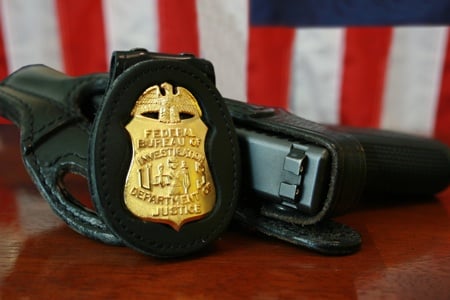 Yes, this image is courtesy of the FBI
A quick search through Google images with the "labelled for re-use" licence option switched on returns zero results of the FBI seal. Despite that, it's pretty widely used in news stories and by not-for-profit organisations across the interwebs.
Late last month the Wikimedia Foundation, which is Wikipedia's mothership, rebutted the bureau's claims and accused it of misinterpreting US law.
"I must inform you that the Bureau's reading of 18 U.S.C 701 is both idiosyncratic… and, more importantly, incorrect," wrote Wikimedia's general counsel Mike Godwin to FBI deputy director David Larson on 30 July, according to the NYT.
Godwin then goes on to unpick the FBI's claim that Wikimedia use of the seal is unlawful, before declining to take down the image.
"We are in contact with outside counsel in this matter, and we are prepared to argue our view in court," he said.
It would seem, then, that Wikimedia has not been granted official permission by the FBI to use the seal on its page. Presumably, other organisations such as Encyclopedia Britannica's website* - cited by Godwin - does have the seal of approval to, well, use the seal.
All of which suggests to us that the FBI isn't taking Jimbo's Wiki crew very seriously at all. Surely some mistake? ®
*We've put in a call to the EB to find out if it does indeed have permission to use the image. We'll update the story if we hear back.