This article is more than 1 year old
PARIS pumps up a Mk 2 release mechanism
Second shot at unleashing Vulture 1
Followers of our Paper Aircraft Released Into Space (PARIS) project will be aware that our first attempt to put together a pressure-operated Vulture 1 release mechanism didn't exactly go according to plan.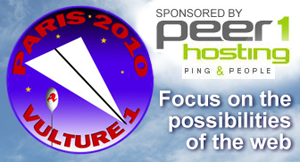 For those of you who're not up to speed on this vital mission component, we should explain that it's the device which will, at the required altitude, drop the Vulture 1 to begin its historic flight.
Our initial cunning plan was to use a big glass syringe filled with a small amount of air, which would expand as it rose into the heavens. The syringe's plunger would gradually extend, allowing us to connect a mechanical release mechanism to it.
That was the idea, but tests at QinetiQ's hypobaric chamber facility showed it just didn't work at the planned ascent rate - 1,000 feet per minute - probably due to air escaping between the ground glass plunger and the inside surface of the syringe.
There's more on that here, but suffice it to say our QinetiQ jaunt wasn't entirely a write-off. Thanks to some top improvised boffinry by Tim D'Oyly and Chas Taylor, we were able to show that an expanding rubber oxygen tube would do the job, if we could create a suitable piece of kit to house it.
Here's a graphic of the concept:

It's simple enough: just house the oxygen tube (maximum diameter 36mm) in a 40mm PVC pipe from the local builders' merchants. Seal both ends of the oxygen tube with rubber bungs, one of which features a fill valve, while the other acts as a mount for a steel rod designed to actuate the release mechanism.
Stick end caps on the PVC pipe, drilled out to accept the fill valve and steel rod, and you've got a simple way of mechanically exploiting the expansion of air inside the oxygen tube.
The liquid, we should explain, is needed because the amount of air required inside the tube at ground level is just 15cc, which expands to around 150cc at 20,000 metres. The tube when fully compressed has a volume of 70cc, and without liquid "ballast", would expand pretty quickly to the point of bursting.
The advantage of the liquid is that we can tweak the exact amount put into the tube (through the fill valve, natch) to deliver the exact level of expansion, or better put, the exact distance of travel of the steel rod as it exits the PVC tube housing.
And yes, we have thought about the liquid freezing. Accordingly, antifreeze would appear to be in order. The tube will also be heavily insulated and all the moving parts lubricated with this low-temperature grease (good to -73°C, the manufacturer assures).
Enough theory, now down the nuts and bolts...