This article is more than 1 year old
Apple smartens up music file-sharing via iDisk
Cloud streaming stealth launched? Not really...
Apple has stealthily added "cloud" music streaming without telling anyone - even its own customers, according to MP3Tunes' Michael Robertson.
The feature, which is part of iDisk, allows password-free music sharing and playback.
On closer inspection - this isn't exactly true.
File-sharing has always been part of iDisk. It's more accurate to say this is an existing iDisk feature that has got smarter, and is now better integrated with the iPhone and iPod Touch.
iDisk is one of a smorgasbord of services under the MobileMe banner - including email, contacts and calendar sync, remote access, and a remote management of an iPhone - for $99 per user. An iDisk iPhone app was launched a year ago with version 3.0 of the OS, and made it trivially simple to share via iDisk. Apple hardly makes a secret of it: "Access and share your files from anywhere" is the current top slogan on the iDisk page.
What's new this time round - or since last month - is that MP3 and AAC files stream nicely in the background - and the iPod app is smart enough to know that it's playing a file from the iDisk.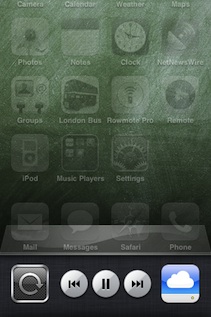 That's all, really.
With world+dog gearing up to do a cloud streaming service, all very similar, there's no reason why Apple can't do one slightly better. A consumer survey of fanbois extrapolated that an Apple streaming music service might gain seven or eight million subscribers pretty quickly. But this isn't it. ®