When Nintendo invited us last week to an event to show off its three dimensional portable gaming console, the 3DS, I wasn't as excited as I should have been. A Nintendo fan since my first Duckhunt, I'd be lying if I said I was uninterested, but apart from a World Cup match in the cinema, 3D technology has never impressed me. There is a wow - for ten seconds or so.
So, ushered toward the 3DS area at the Nintendo gig in Millbank, central London, my expectations were low. I was wrong.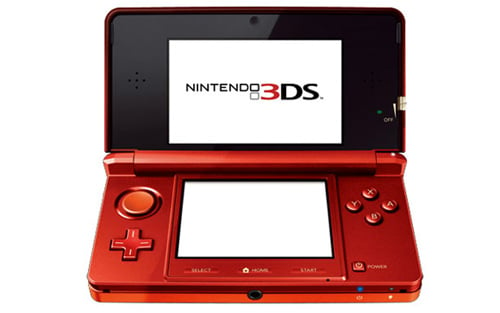 The 3DS is like nothing I've seen before with 3DTV. For starters, no glasses are required. The screen works with a Autostereoscopic parallax barrier and although I had to position myself right first, it wasn't long before I found myself immersed in a demo of Nintendogs and Cats.
The difference was immense - it really felt like I could reach into the screen. As opposed to the 2D layer effect that comes with its television counterparts, the 3DS has an almost true 3D effect with excellent depth. OK, if Nintendogs, a game that I'd usually cringe about had me intrigued, I couldn't wait to see something more up my street.
Next in line was Pilot Wings Resort, a franchise you may remember from as far back as the SNES days. The only fully playable demo on offer, the depth when flying through hoops was remarkable and definitely adds to the game. It bought me back 15 years nostalgically, but it felt like the future of gaming had arrived.
After rinsing the demo, I moved onto the next one, Metal Gear Solid. Although un-playable, the first person view can be controlled as the camera moves through long grass with crocodiles and snakes jumping out. This was by far the most impressive demo for me. Graphically supreme, the sense of depth through the long grass was second to none. When the snake pounced at the screen, I jumped out of my skin, much to the amusement of the PR reps.
As I moved round the table, I saw brief demos of Resident Evil, Kid Icarus and Hollywood 61, none of which impressed nearly as much as MGS. A 3D video demo was slick, with the smashing of a wine glass the most memorable moment. And a clip of the upcoming kids flick Legend of the Guardians worked surprisingly well on the small screen, suggesting the 3DS could be used as a portable cinema for keeping a child occupied in long car journeys.
Last but not least was a short but spectacular clip of Mario Kart, showing off fantastic smoke effects and how the new depth can assist with timing when to fire your power-ups. If Mario Kart could get any better, it was going to need a whole new dimension and that's what's happened, literally.
The experience is one you want to share and with limited viewing for those looking over your shoulder, its something kids will no doubt fight over even more.
There are two cameras on the back for home-made 3D images. A cheesy snap of myself came out quite layered looking, but fun none the less and a great feature that will give children endless hours of fun.
The size and weight is similar to its predecessor, the DS, with a practical design that's well constructed in the traditional glossy finish we've come to associate with Nintendo products. The 3DS is backward-compatible - it handles old games, so shouldn't hold back existing DS users from upgrading upon release. For such games, or if you wanted to give your eyes a break, there is a switch to turn the 3D effect on and off.
It's early days yet, and we were not allowed to take photographs, but the 3DS should be available from early 2011. No hints as to how much they'll cost yet, although you'll probably want one regardless, I know I do. ®