Etón Soulra solar-powered iPod dock
Let there be light… and sound
---
Alas, the sound quality is disappointingly below average for a medium sized speaker dock. More bass heavy tracks, such as Basic Space by The xx [http://thexx.info], fare reasonably well. Orchestral pieces sound rich enough but high notes are woolly and if things get loud, as during the Third Movement of Arvo Pärt's Symphony No.3, then there is noticeable distortion at higher volume.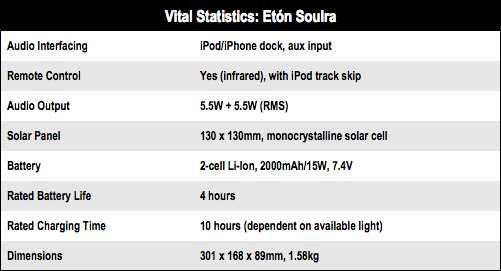 With something really busy, like Aim High from Paul Weller's recent album Wake Up the Nation, it degrades into a raspy mess, even when playing in Apple's Lossless format. Audiobooks and spoken word podcasts are mostly effective, with again a slightly muffled quality on top of the otherwise weighty sound. The sealed water-repelling, sand-proof speakers might be to blame for that.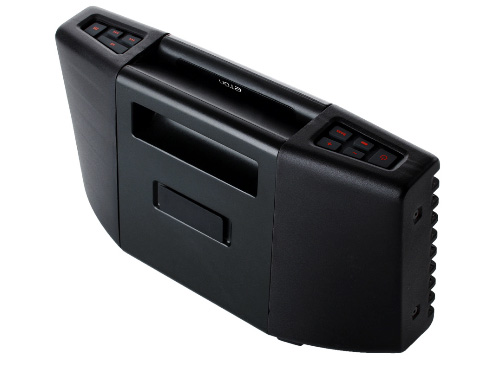 Well-designed for the outdoors, but sonically leaves room for improvement
Verdict
Whether your motive is green or simply to shave a few pennies from the electricity bill, running a speaker dock and keeping your iPod/Phone charged by harnessing sunlight is an attractive idea. However, the sound is a letdown and given the relatively high price it would take some time to recoup the extra cost by using free energy alone. ®
More iPod Dock Reviews...

Teac
R-4iDNT
Revo
Heritage
Altec Lansing
inMotion
Compact
B & W
Zeppelin Mini

Etón Soulra solar-powered iPod dock
Portable sound system for iPods or iPhones with built-in solar panel or a mains back-up charger.