This article is more than 1 year old
iPhone 4 satisfaction high, but lower than iPhone 3GS
Beleaguered AT&T not a fanboi favorite
Results from a small-scale survey rating satisfaction among iPhone 4 owners were released Wednesday. The verdict? Mixed.
ChangeWave Research, a self-described "independent research boutique", conducted a survey of 231 iPhone 4 owners to determine what they described as "one of the biggest unknowns" in the ongoing handset dust-up, namely: "what actual iPhone 4 owners really think about their new smart phones."
The results provide ammunition for both the "There is no antennagate" and "Antennagate is real" camps — plus unvarnished bad news for the US's exclusive iPhone carrier, AT&T.
iPhone fanbois will be heartened to read that, according to ChangeWave, owners of iPhone 4s reported fewer dropped calls than do owners of its predecessor, the iPhone 3GS — 5.2 for the former and 6.3 per cent for the latter.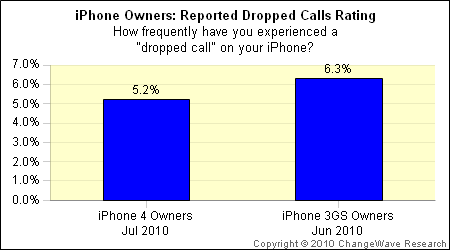 "In other words," Changewave reports, "despite the hoopla surrounding the antenna issue, in actuality iPhone 4 owners report experiencing slightly fewer dropped calls on the average than do iPhone 3GS owners."
Bolstering the antennagaters' case, however, is the fact that 24 per cent of iPhone owners cited "Antenna Issues" when asked "What do you dislike most about your iPhone 4?" That complaint was tied for number two among the rated complaints, tied with "Coverage/Speed/Quality of AT&T's 3G network", behind "Requirement to Use AT&T's Network", which led the grumbling at 27 per cent, and edging out "Excessive Dropped Calls", at 23 per cent.
In addition, ChangeWave noted that initial satisfaction with the iPhone 4 — although high — was below that reported by iPhone 3GS owners in a survey taken shortly after that phone shipped in 2009.
"The emerging pattern is that while the iPhone 4 has been very well received by new owners," the study concludes, "the survey findings aren't quite at the nosebleed levels seen at a similar point in time for the 3GS launch."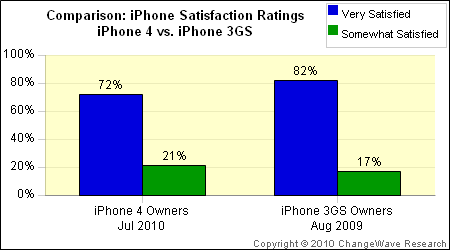 With such a small sample — 231 iPhone 4 owners out of the millions who have embraced the Jobsian handset — it's difficult to put full faith and credit behind ChangeWave's results. But they do give credence to Steve Jobs' claim during his July 16 "There is no antennagate" press conference that there is no huge groundswell of distaste for the device that he called "the biggest leap since the original iPhone" when unveiling it in early June.
The iPhone's exclusive US carrier, however, doesn't get off as easily. In addition to owning the top two spots among complaints expressed by iPhone 4 users, AT&T came out poorly in a recent ChangeWave dropped-calls survey: "In our most recent consumer survey on wireless providers," the research boutique's researchers write, "Verizon had the industry's best dropped calls rating and AT&T had the worst."
Not only does AT&T have a poor dropped-call rating, ChangeWave's team also found Big Phone's service to be deteriorating: "Since September 2008," they write, "Verizon's rating has improved slightly while AT&T's has continued to worsen."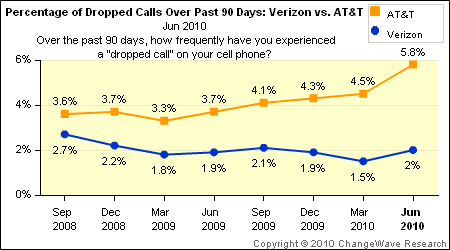 And so the antennagate muddle continues. Some clarity is beginning to emerge, however: at least 164 iPhone 4 owners (72 per cent of 231) are "Very Satisfied" with their Cupertinian smartphones, and AT&T is a millstone around Apple's neck. ®