Navy SEALs to deploy armoured dogs in A'stan
Elite, bulletproof commando canines go to war
---
Latest from the Wars On Stuff: The Register has learned that top-secret, super-elite US Navy SEAL special forces are to deploy heavily armoured bulletproof dogs equipped with infrared nightsight cameras and an "intruder communication system" able to penetrate concrete walls.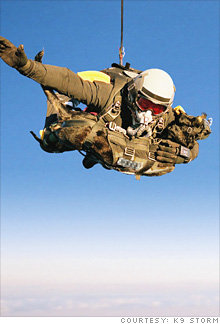 No sky too high - perhaps some seas too deep
Government documents obtained* by The Register reveal that US Naval Special Warfare Group One yesterday awarded an $86,000 contract to Canadian firm K9 Storm Inc for the supply of "Canine Tactical Assault Vests" for wear by SEAL dogs.
K9 Storm specialises in the production of tactical gear for dogs, including ballistic body armour and - of course - the "aerial insertion vest" for "dogs of war" needing to deploy into their operational area by helicopter or freefall parachute jump (pictured). One may note that the K9 Aerial Insertion Vest was worn by the current world record holder for highest man/dog freefall parachute deployment, "Cara"**.
Returning to the armour for the Navy SEAL canine commandos, the model chosen is the K9 Storm Intruder. This is rated to offer "excellent" protection from strikes by shrapnel, gunfire, cutting weapons or ice picks. It also features an infrared nightsight camera and through-walls communications system, allowing a timid human handler to send his furry comrade forward to reconnoitre a situation and see all that the dog sees - and also issue audio commands.
K9 Storm was founded by former Winnipeg police dog-handler Jim Slater after he was forced to improvise body armour for his partner Olaf, exposed to danger during a prison riot in 1996.
"He was out working ahead of our lines," Slater told CNN last year. "I realized it would be a bad way for him to go down, stabbed with a screwdriver."
Further details of the Navy SEALs' doggy assault team are highly classified, but it's possible that a further specialist doggy equipment opportunity is being missed here. The SEALs, though no doubt at the moment primarily focused on operations in landlocked Afghanistan, are normally a maritime force specialising in waterborne frogman-type missions.
It's normal practice for human frogmen wearing heavy body armour to include a self-inflating lifejacket in their tac vest, for use in the event of falling back into the water after assaulting a ship, oil rig etc and removing their scuba gear. This prevents them being pulled under and drowned by the weight of their armour. There are even versions in which the lifejacket is stowed behind the armour, to avoid possible bullet punctures.
K9 Storm may wish to offer a lifejacket option - and possibly some form of doggy swim fins, underwater breathing apparatus etc - for the SEALs' future requirements. ®
Bootnotes
*By looking at them on the internet.
**Both Cara and her human assistant Mike Forsythe used oxygen breathing equipment during their record-breaking jump. K9 Storm informs us that Mike, as you would expect, "works as a canine parachute instructor for military and search & rescue units around the world".