Ofcom has an interesting new definition of what constitutes a "radio listener". It now includes four-year-old children. And at a stroke, DAB radio's prospects suddenly look a lot healthier.
Last month Ofcom released its "Digital Radio Report". One graph purports to demonstrate the reach of digital-only stations. Ofcom claims five digital-only stations are reaching over one million listeners a week. But on closer inspection, the listeners are aged "4+".

This is odd, because the radio industry counts listeners aged 15+ as its benchmark. This is the qualification threshold used by RAJAR, the ratings body jointly owned by the BBC and commercial radio operators. When the graph is adjusted to the more standard metric, the five stations count falls to three.
In addition, BBC World Service is listed as "digital-only", even though it can be heard in the UK through analogue on medium wave (648Khz) and long wave (198), although the latter is actually Radio 4. Make that two, then.
It's just one of several dubious statistical shenanigans highlighted by analyst Grant Goddard; you can read his full breakdown here.
Most dubious of all is the assertion that analogue listening is falling - Ofcom claims it's fallen from 87.2 per cent in 2007 to 76.4 per cent now. This is cherry-picking: analogue was 66.1 per cent in Q2 2007 and 66.7 per cent in Q1 2010. A significant chunk of RAJAR's figures are "unspecified" listening.
Ofcom also used data from a survey that asked if anybody had ever used digital radio. This was then used to create results demonstrating how many people use digital radio - in the present tense - now.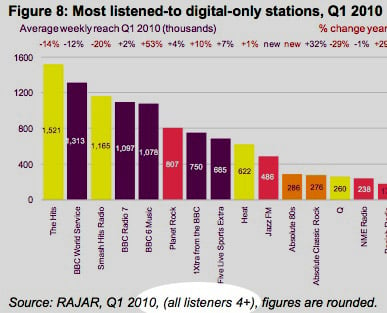 There's a serious point here, Goddard points out. The Digital Economy Act specifically states that this Ofcom document should be the basis for policy decisions on the digital radio switchover. But the evidence that Ofcom puts forward isn't worth the paper it's printed on. He concludes:
"Given that Ofcom has had the luxury of several years to prepare this first Digital Radio Progress Report, the result is a travesty. It should not be the regulator's role to selectively highlight and distort data that support its own policies in a document specifically requested by government in order to inform a parliamentary decision on digital radio switchover.
"We deserve better from our public servants."
Quite so.
If DAB radio now needs to enlist toddlers to boost its fortunes, the unborn and the dead can't be far behind. ®