Open...and Shut Gartner thinks the cloud computing market will top $68bn in 2010. If so, it's probably a good idea that someone, somewhere in the industry starts to make money from the much-hyped cloud trend.
After all, the poster child of cloud computing - Amazon - is reportedly only doing $500m or so this year, according to UBS research. Where is that other $67.5bn hiding?
In some rather silly accounting, it turns out. Eighty-five per cent of Gartner's $68bn bonanza is in something called Business Process Services - $32bn of which is online advertising!
Yes, one of the stated benefits of cloud computing is flexibility/elasticity. That doesn't mean our definitions of cloud computing should be the same.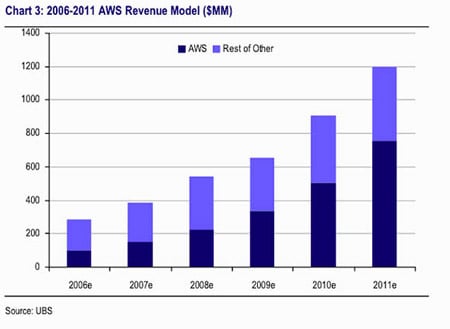 Rain maker or summer sprinkles - Amazon's money from the cloud
John Treadway removes much of the silliness from Gartner's numbers and comes up with a much more believable $10.5bn in 2010, with the majority of that revenue coming not from platform-as-a-service or infrastructure-as-a-service vendors like Amazon or Rackspace, but rather from software-as-a-service application providers like Salesforce.
Applications drive the most revenue in the pre-cloud world. It's intuitive that they would drive the most revenue in the cloud world, as well.
Even so, there is plenty of gold in a cloud computing infrastructure business. Just ask Amazon.
Redmonk analyst Stephen O'Grady points to significant margins in Amazon's cloud business, much higher than those of Cisco, Hewlett Packard, or IBM with their respective infrastructure businesses. If true, this means the cloud infrastructure business isn't necessarily the low-margin, high-volume business many of us assumed, as O'Grady writes:
Revenue is a function of volume and margin. The volume, with respect to the cloud, is not a concern for me. The margin always has been. If that concern can be erased through combinations of automation, efficiencies and scale, then the economics of the cloud look even brighter than they did before. The current market size may portend less upside that we've historically seen from technology sectors because it's more significantly driven by volume than in years past, but I have few concerns about the market potential long term.
Neither, apparently, does Red Hat, the industry's leading open-source infrastructure provider, and one that has become increasingly serious about cloud computing. Red Hat is not the sort of company to chase fads, and tends to be very conservative in the markets it targets.
For some time Red Hat has treated its growing virtualization business as a proxy for a cloud computing business, content to take the money CIOs are spending today on virtualization while largely avoiding the hype-heavy but revenue-light cloud business.
No more.
A quick glance at Red Hat's jobs page reveals significant emphasis on cloud. Seventeen per cent of all open jobs have cloud in the job title. Many more are related to cloud, even though they aren't specifically labeled as such.
Again, Red Hat seeks to serve existing demand, whether it's in server operating systems or application servers. It's not in the habit of creating new markets. If Red Hat is hiring to sell cloud services, it's because there's an existing, growing market.
One that might not be at $68bn today, but that is definitely growing fast. Rightscale, a cloud management tool provider, notes that it has seen a 300-per-cent spike in the number of servers it manages, with those servers running longer. Translation? Rightscale has seen a 1,000-per-cent increase in cloud spending since 2009.
In short, there's plenty of money in the cloud, and it's available today. Not $68bn of silly money, but enough to justify growing a Rackspace or Rightscale or Red Hat. ®
Matt Asay is chief operating officer of Ubuntu commercial operation Canonical. With more than a decade spent in open source, Asay served as Alfreso's general manager for the Americas and vice president of business development and he helped put Novell on its open-source track. Asay is an emeritus board member of the Open Source Initiative (OSI). His column, Open...and Shut, appears every Friday on The Register.