Spacewalkers Tracy Caldwell Dyson and Doug Wheelock have spent a frustrating eight hours, three minutes* outside the International Space Station attemping to swap out the ammonia pump which failed last Saturday night and knocked out half of the station's cooling system.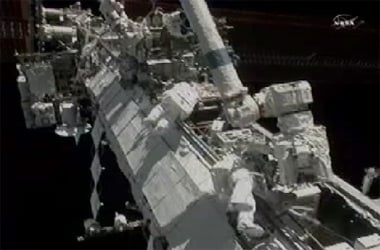 The pair's EVA officially began at 11:19 GMT. The original plan was to replace the clapped-out unit on the orbiting outpost's S1 truss with a spare "oven-sized" pump stowed on an external stowage platform attached to the Quest airlock.
NASA hoped that the pair could then carry out a second EVA on Wednesday, to connect the pump's fluid and electrical lines.
However, during today's EVA, "an ammonia leak in the final line that needed to be disconnected" from the old pump prompted NASA to ask Caldwell Dyson and Wheelock to "reconnect the line on the pump module and install a spool positioning device to maintain proper pressure internal to the ammonia line".
As a result, the old pump is still in position, as NASA ponders just how to deal with the problem. It notes: "Teams on the ground are evaluating the impact of the leak on plans to replace the failed pump, as well as possible fixes for the leak. The completion of the process will most likely require at least two additional spacewalks."
The agency has updates here. ®
Bootnote
* "The longest International Space Station-based spacewalk in history and the sixth longest in human spaceflight history."