Some nets are more neutral than others
Because Google isn't a telco, or isn't Microsoft, people assume it must be a White Knight, and therefore doing everything for all the best possible reasons. But Google isn't obliged to do charity, or perform utopian deeds - it just does what's best for Google. And sometimes what's best for Google is making sure the next Google doesn't get any favours. That's naivety.
Then there's the ignorance. I've often wondered how technology utopians seem to have a 'birthing' moment, much as enthusiasts for LSD or MDMA do too. Their mental model of the world is frozen in time, at the moment they first discovered the wonders of the drug net, so how the world looked in 1994, or in 2002, then must be the one true explanation; the ever-shifting politics and power plays of the present must be buried under a unifying nostalgic memory, or sweeping generalisation. You will this true for any Berkman Center alumini, or any Web 2.0 evangelist.
Well, things change. It's no longer accurate to think of a hierarchical network core. And things are changing fast. Google wasn't even in the top 20 originators of traffic in 2007, but last year it was third - Google's private network grew annually from 3.4 per cent of traffic, to six per cent, to around 10 per cent this year. (For more see the most recent Atlas Internet Observatory annual report - pdf.) Surprisingly, perhaps, Comcast also shot into the Top 10.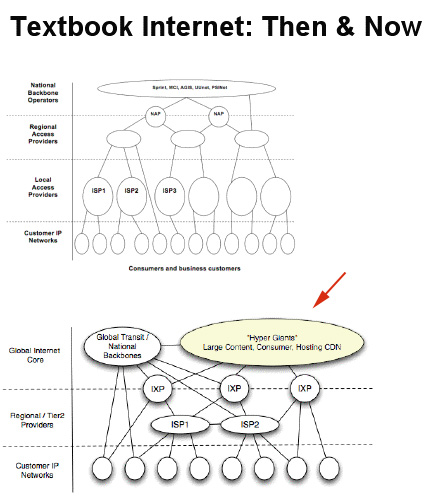 Behold the "Hyper-Giants"
Source: Atlas IO Report 2009
Even Robert X Cringely only gets it half right in this New York Times op-ed, speculating that a Verizon-Google deal is all about plugging data center containers into Verizon facilities. Which makes for a dramatic movie scene - particularly if they plug them in at 3am, on a cloudy night, under a New Moon.
But it's clear that Cringely doesn't know that this is what's already happened - the caching servers are already doing the job quite nicely. And declining backbone bills aren't "wishful thinking", as Cringely muses, but an economic reality for the past four years. (All in all, this is not the Times' finest piece of industry analysis.)
When Microsoft tied up the office software business, few Lotus or WordPerfect users failed to realise the market was changing - but very few web users now notice how much it's changed.
Pro-neutrality campaigners are now furious at being thrown under a bus. They might be more furious to discover Google lobbying for rules it would never have to abide by itself.
But the campaigners never took the trouble to understand how the internet works, nor how that has been changing. By painting the world into White and Dark Knights, they were unable to envisage the kind of Verizon-Google deal that is already the norm: where incumbents put their differences aside, and discover they have something wonderful in common: the desire to repel newcomers.
I don't expect Google to drop the Net Neutrality campaign completely - not when neutrality for others gives it such a useful competitive advantage. ®
Bootnote
A real net neutrality law would have to give every company equal access at equal rates to Akamai or Google's caching servers - and I can't see that happening, not even in North Korea. Can you?