Microsoft has dusted off some hoary anti-Apple chestnuts in a new "Macs-suck-we-don't" web-based ad effort.
It must be back-to-school computer-buying time — and Microsoft's marketeers aren't going to let the Mac's sales surge continue without a fight.
Redmond floats a few reasons why a Windows PC is superior to a Mac on its new "Deciding between a PC and a Mac?" web page. To wit:
You can't get a Mac that ships with a Blu-ray player, TV tuner, memory stick reader, or built-in 3G wireless
Things just don't work the same way on Macs if you're used to a PC. For example, the mouse works differently
If you use Apple's productivity suite, sharing files with PC users can be tricky
On a Mac, you have to manually set up photo sharing, manually set up music and movie sharing, manually set up file sharing, and manually set up printer sharing
Macs only come in white or silver. PCs are available in a full spectrum of colors across a range of price points
Mac users will notice that some of these niggles are valid (no Blu-ray, for example), some are laughably overstated (Mac sharing requires a single checkbox-click), and some are merely silly (colored PCs — oh, and who popularized those over a decade ago?).
You can read the list's headlines below, or check out the full truthiness of Redmond's more-detailed critique at "DbaPCaaM?".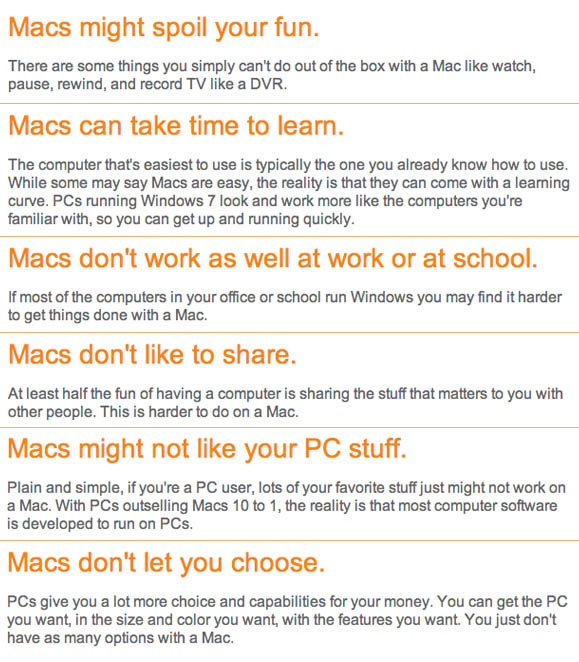 Having fun, simplicity, working hard, sharing, compatibility, and choice — Microsoft has opinions
To be sure, Redmond and Cupertino have sniped at each other over the years — perhaps most famously in Apple's long-running "Get a Mac" television and web-based ad campaign, which was killed off this May after a four-year, 80-spot run, and replaced on Apple's website by a soft-sell "Why you'll love a Mac" pitch page.
Then there were Microsoft's Laptop Hunters ads — one of which, "Lauren and Sue get a Dell XPS 13", Redmond was forced to edit after Apple dropped their MacBook pricing, thus rendering its expensive onscreen price tag out of date.
The Mac vs. PC debate may have mellowed over the years, but passions still run deep — just check out the avalanche of comments on a recent Reg story about Redmond's sinking fortunes. ®
Similar topics