Quake Live id Software's free online First Person Shooter for PC, Mac and Linux, has introduced two payment plans to raise revenue and keep the game afloat.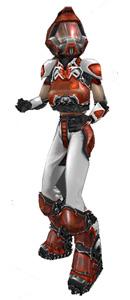 Since February 2009, Quake Live has been available free as open beta, partially funded by advertising. It soon became clear that this did not cover costs, and so a premium subscription package was put in motion this time last year.
Two new packages were released this week, to accompany the game coming out of beta.
Billed annually, Premium Subscription costs £1.59 per month, and offers:
Game access without the pain of advertising before you play
20 Quake Live Premium only maps, with more to come
An all new Freeze Tag game mode
The ability to create your own clan and join up to five others
Match statistics stored for six months Premium game awards
Get all that and more for £3.18 per month, with a Pro Subscription, also billed annually, which includes:
The ability to start your own server, specify a server location, determine game mode and invite who you want to join
Invite three friends on Standard level membership to play with you in a premium map
Create your own clan and join up to ten others
Match stats stored for 12 months
Pro game awards
The standard version of Quake Live is still free to play. This covers access to one clan, matchmaking, friends lists, over 50 arenas and five game modes.
Get fraggin. ®