iPhone users get more sex than Android fans
There's no app for that
---
When it comes to getting laid, put your Blackberry back in your hip holster and don't get caught touching an Android. The iPhone gets results.
iPhone users are getting more sex then their counterparts on RIM or Google devices, with women iPhone users getting more action than their male counterparts.
Women iPhone users are having roughly twice as much sex as men and women with Android phones.
That's according to dating site OKCupid.com, which crunched the data on nearly 10,000 smart phone users.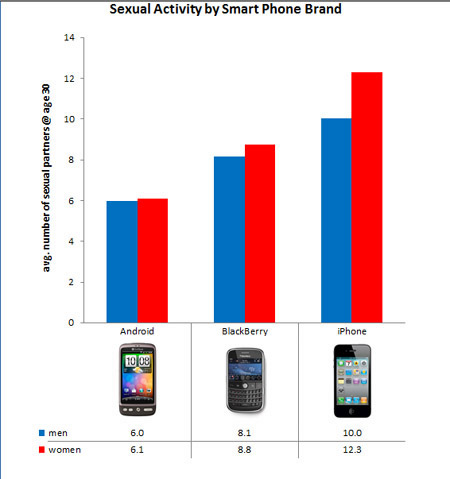 iPhone on top again, according to OKCupid.com
OKCupid, which focused on 30-year-olds, found women with an iPhone to have had just over 12 sexual partners compared to 10 for men. Both men and women Android owners had six partners each.
It must be the lure of the phone once partners are in close proximity that's working, because OKCupid found when taking photos and posting them online, a camera phone puts the subject's attractiveness into negative numbers.
The iPhone was one of just three camera phones that didn't make people less attractive in their photos — barely. Eight other phones, including the Blackberry, made people look worse. For best results, OKCupid suggested a proper Panasonic SLR.
Cameras with interchangeable lenses such as an SLR are "more complex" and can make you look more attractive than your basic point and shoot — and certainly better than your camera phone. ®