ISS spacewalkers tackle failed cooling pump
Brute force frees final ammonia line
---
International Space Station spacewalkers Tracy Caldwell Dyson and Doug Wheelock earlier today removed the orbiting outpost's failed ammonia pump unit at the second attempt.
A first EVA on Saturday to wrest the unit from its mountings on the ISS's S1 truss ended in frustration "due to a leak in the fourth of four ammonia line connectors".
Accordingly, the old pump was left in place while NASA pondered just how to safely disconnect the final ammonia line.
Caldwell Dyson and Wheelock's spacewalk began at 12:27 GMT. The original plan was "to close other quick disconnect lines where the S1 and S0 trusses meet that will isolate ammonia upstream in the system from the final connector".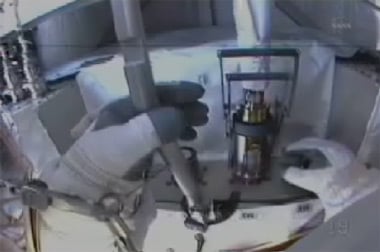 In the event, this proved unneccesary. Wheelock was able to close the connector's quick disconnect valve and unhook the assembly from the pump with a combination of a special tool and some good, old-fashioned brute force.
Cameras captured a few flakes of ammonia during the disconnection operation (in progress in pic), but there was no sign of leaking. NASA suggested that reducing the cooling system's internal pressure earlier this week prevented a repetition of Saturday's ammonia snowstorm.
With fluid lines connected to a temporary jumper box, Caldwell Dyson then demated the failed unit's five data and electrical connections while Wheelock loosened the four bolts holding it to the truss.
Riding the ISS's robotic arm, Wheelock manoeuvred the pump module for attachment to "a payload bracket on the Mobile Base System on the station's truss", where it will remain "indefinitely".
On Sunday, the pair of spacewalkers will wrap repairs of the cooling system by installing a spare pump unit - one of four on the ISS - which is currently sitting on a stowage platform outside the Quest airlock. In preparation for this, they unplugged three electrical connections to the module.
The EVA ended at 19:53 GMT, after a total of seven hours and 26 minutes. NASA has the latest from the ISS here. ®