Sky wins trademark tiff with Skype
Only one has the footie, though
British Sky Broadcasting has won a trademark dispute against Skype™ in the EU. The parasitic VoIP service is appealing, citing successful defences against BSkyB in Switzerland, Turkey and Brazil.
The dispute, which has been running for five years, was little-known outside legal circles until it emerged in the mammoth S-1 document that accompanies Skype™'s public flotation. According to BSkyB, its polling finds that consumers are confused, and the broadcaster also contends that the logos are also similar.
As you can see: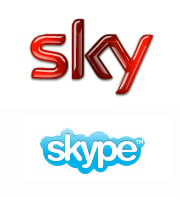 Skype™ states that:
"To date, we have successfully defended these oppositions in Switzerland and Turkey and to date have received a positive decision in Brazil. However, on July 6, 2010, we received a negative first instance decision from the European Union trademark registry (OHIM) on BSkyB's opposition proceeding against the Skype bubble logo trademark application. We intend to appeal this decision by submitting a notice of appeal to the OHIM Board of Appeal, and if necessary to the General Court at the Court of Justice of the European Community."
Trademarks differ from other intellectual property law in that the owner of the mark must constantly reassert the mark, or risk losing it. They're easy to lose: in 2002, Sony lost the Walkman™, merely because the word had appeared in a German dictionary without a reference to Sony. This is a problem for Skype™, too - the service is so popular, it's become synonymous with computer-to-computer telephony. Google has also been obliged to defend its name against genericide.
The UK IPO database lists over 500 trademarks containing the word Sky™. Including this one. ®