BBC digital chief emerges from Strategy Boutique
Huggers' new plan looks a lot like the old plan
---
While public self-flagellation and expressions of retrenchment are suddenly evident all over the BBC, its New Media chief Erik Huggers has left the door open for indefinite online expansion in a new strategy statement. The message to rival commercial online organisations is pretty clear: the BBC web operation has little prospect of vacating the ground it currently occupies.
Erik Huggers, Director of Future Media and Technology, has outlined the new Strategy in a blog post called "Putting quality first". He explains that BBC Online will be re-organised around "products" and crowdsourcing.
Rather than "building websites", BBC Online will be "managing products", which he explains as "a self-contained entity within BBC Online, which unites technology and editorial to meet a clearly defined audience need".
"It's a strategic approach for the service as a whole - framed by what our audiences need from the web, rather than what we produce today for TV and radio - a change in culture for BBC Online," he writes.
Huggers thinks that the BBC is doing the commercial sector a favour by driving traffic to their sites: "Already the BBC is the second biggest referrer of traffic to online newspapers, something we want to do even better." Private sector contenders can always offer another point of view, he adds: "Rival media outlets will take a different editorial position on the news agenda."
That's nice.
And rather than outsourcing projects to the British Library and British Museum, Huggers advocates further partnerships.
The rationalisation of the sites is easier to plan than achieve, and any reorganisation can involve endless games of musical chairs, leaving everyone and everything as it was before. Huggers sees online activity falling into five "product portfolios":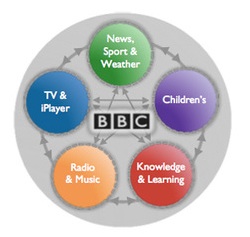 But this doesn't really clear things up. iPlayer is a "platform", a delivery mechanism, through which other things go. "Children" is a demographic, while "News" is a genre of editorial. The reference sites envisaged for the "Knowledge" blob may equally serve education or news. The relationship between them isn't clarified by drawing simple interconnecting lines between these, so as a guideline for implementation, it's not very useful.
As for radio, the FM&T chief acknowledges that the BBC's online offerings are a mess, but hopes that this will be sorted out by the forthcoming Radioplayer - a partnership with commercial radio to produce an all-in-one console.
One of the BBC's crown jewels is its archive, but Huggers has little to report on progress digitising the BBC's except that the "building blocks" are in place. To get a flavour of how amazing this could be, see Adam Curtis' blog - one man's journey through the archives.
Since we've already paid for this over the decades, and this kind of content is both unique and not easily replicated by commercial operations, shouldn't we have more of this? It's certainly one of the more minor expenses.
Huggers, a former Endemol and Microsoft executive, takes home between £310,000 and £340,000 per year, the BBC disclosed in June, up from £274,000 in 2008/09. Bio and expenses accounts (including what appears to be an £80-a-day taxi habit) are available here. ®
Similar topics
Broader topics