This article is more than 1 year old
119 iPad apps for admins, coders, and geeks
Tools, training, and tips for sysadmins
Part one: Apple's "magical and revolutionary" iPad is not just a toy for Jobsian fanbois — and The Reg has 119 tech-savvy apps to prove it.
Today we launch our first installment of a Reg roundup of iPad apps that provide more utility than do fart-sharing, bubble-popping, and "Yo Mama!" joke-telling apps. We'll focus on items that can ease your sysadmin chores — and in coming weeks another installment will provide help for coders, and a third will share an assortment of tools for engineers, web monkeys, and other assorted geeks.
A few ground rules: first, we weren't able to test all the apps, so caveat, Mr and Ms emptor. Check out our overviews and recommendations, read each app's description in its App Store blurb, peruse users' comments, then make your choices.
Second, we've included user ratings when an app has received enough of them to sufficiently satisfy the App Store police to allow a rating's inclusion — but don't take those evaluations too seriously, since it appears that reviewers of utilitarian apps are an uncommonly cranky lot.
And finally, be realistic in your expectations. Most of these apps are one-trick ponies that are either free or cost just a few bucks. You're not going to find the equivalent of, say, VMware vCenter in the App Store for a buck ninety-nine.
Tools
One tedious chore with which admin staffers are often tasked is to keep track of what machines a company or department has, how they're configured, and so on. We tracked down three apps that can help.
The developers of Computer Inventory ($1.99, four stars) didn't waste any effort on fancy graphics, but their app can manage a relatively small company's computing stock in reasonable detail, and can export its data in XML format via email.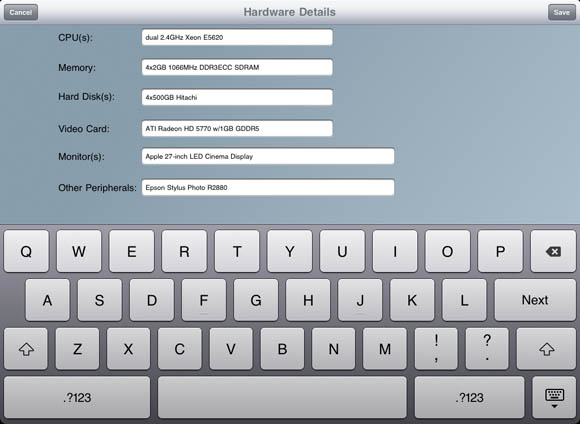 Computer Inventory may not be pretty, but it gets the job done
Computer List (free, two stars) is more rudimentary than Computer Inventory, but the price is right. Our third keeping-track-of-everything app, my Geek Things Pro ($1.99), can be password protected, includes fields for passwords, software licenses, and more, outputs CSV and PDF summaries, and links up with the developer's desktop/laptop version for Macs and Windows PCs.
A different problem is attacked by intraWebPub ($4.99), which claims to turn a normally single-user iPad into a device suitable for multiple users. For reasons we confess not to fathom, this app has a "17+" age rating, a designation normally reserved for apps that involve sex, drugs, violence, and other fun stuff. Possibly Apple's worried that one user could hack into another user's photo collection to see - well - you know.
If your office has a stock of iPads that move from one user to another after, uh, "rightsizing", ShredIt HD ($9.99) will overwrite free space in storage memory so that purportedly deleted files can't be recovered.
Although zipThat ($1.99, two stars) isn't strictly an admin tool, it can help if you've been emailed or downloaded a ZIP file, and don't have a laptop or desktop conveniently available to unZIP said ZIP.
Note, however, that zipThat is currently at version 1.0, and the developer admits: "Some issues have been reported to us, and we're working to correct them now." You might want to wait until version 1.0.1.
Password utilities
For a single user, password creation and management is enough of a hassle. If you're setting up a 50-PC office, that chore expands to become a total pain in the arse. As of today, the App Store had at least four password helpers.
The top-rated — and most expensive by far — is 1Password Pro ($14.99, four and a half stars), the iPadification of what its developer refers to as "the award-winning 1Password application with more than one million users worldwide" — meaning the app's desktop/laptop incarnation. Not just a password creator, 1Password securely stores and organizes password collections.
At the other end of the price curve — and feature list — is Blasphemous Password (free, three and a half stars), which merely creates randomly generated passwords after you select a few simple parameters.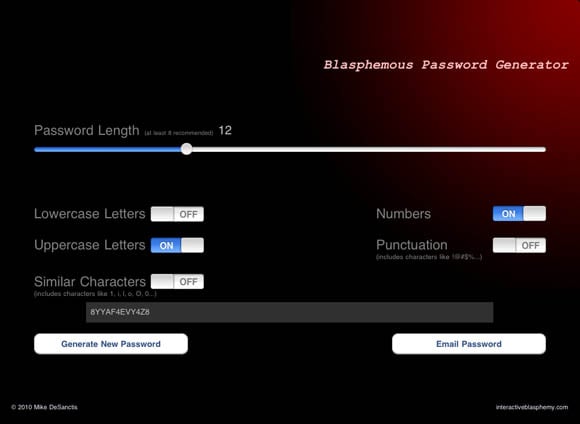 Blasphemous Password doesn't do much, but doesn't cost anything
iPassGen ($1.99) generates and ranks passwords based on five different character types (upper and lower case alpha, numbers, punctuation, and accented Roman characters), and has an email feature. The simple pwdGen (99¢) generates straightforward passwords, plus time-stamped keys.