NASA 'nauts wrap ISS pump job
'Healthy' new cooling unit in place
---
Spacewalkers Tracy Caldwell Dyson and Doug Wheelock have successfully installed a new ammonia pump module to replace the one which failed on 31 July, taking out half of the International Space Stations's cooling system.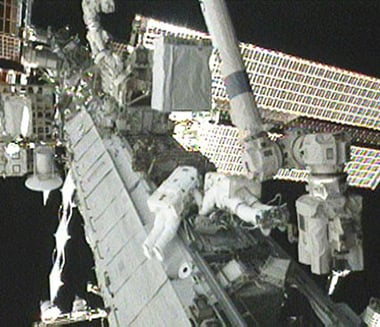 Caldwell Dyson (seen left in pic) and Wheelock's EVA officially began at 10:20 GMT. They moved the spare pump unit from an external stowage platform outide the orbiting outpost's Quest airlock and bolted it into place on the ISS's S1 truss.
NASA says the replacement unit - attached to the platform back in July 2006 during Discovery's STS-121 mission - was in "healthy condition" following electrical hook-up.
The agency adds: "After a pressure check and more fluid cable connections, ammonia began to flow into the module."
It's taken Caldwell Dyson and Wheelock three spacewalks to replace the pump. The first on 7 August lasted an epic 8 hours, 3 minutes, while the second on 11 August was 7 hours, 26 minutes. Today's EVA ended at 17:40 GMT, after 7 hours and 20 minutes.
When the old pump clapped out, ISS ground controllers "powered down numerous station systems and readjusted them to provide maximum redundancy" for the half of the cooling set-up which was still functioning. NASA has details of the ammonia-driven chilling equipment on page 63 of its ISS main systems guide, right here (pdf). ®