IBM completes Power7 server arsenal
Shooting low and high
The Power 795 behemoth
That leaves to top end of the Power7 server range, the Power 795. As El Reg has previously reported, the Power 795 is similar in architecture to the Power6-based Power 595 system it replaces in that both have eight system boards in their symmetric multiprocessing configuration, with each system board having four processor sockets. The key difference with the Power 795, of course, is that IBM has moved from the dual-core Power6 chip running at 5 GHz to the six-core Power7 chips running at 3.7 GHz and eight-core Power7 chips running at either 4 GHz or 4.25 GHz.
According to Howard, a single 4 GHz Power7 core will yield about 15 to 20 per cent more performance than a 5 GHz Power6 core, and when you factor in the quadrupling of cores moving from the Power 595 to the Power 795 plus this increase in performance (largely enabled through the 32 MB of embedded DRAM L3 cache memory on the Power7 chip), the full-bore Power 795 system has just under five times the raw capacity of the top-end Power 595.
The Power 795 comes in two different configurations. The first uses the six-core, 3.7 GHz Power7 chips and scales from 24 to 192 cores. Each processor book has 32 main memory slots, which yields a total of 256 memory slots in a fully loaded system and 8 TB of main memory in a single system image. This low-end Power 795 machine can support up to 32 remote I/O drawers using IBM's 12X tweak on 20 Gb/sec InfiniBand, which slots into the GX++ I/O slots on the Power7 processor cards.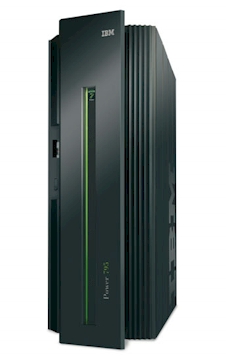 IBM's Power 795 top-end Power7 server.
The full-on Power 795 comes with MaxCore and TurboCore modes, just like the Power 780 enterprise-class server announced back in February. In MaxCore model, each processor book has four Power7 chips with eight fully working cores running at 4 GHz. That yields a top-end system with 256 cores, and at four threads per core, 1,024 threads. That's four times the cores and eight times the threads as the Power 595.
Some workloads like having more L3 cache memory and main memory allocated to fewer and faster cores, so the Power 795 includes the TurboCore mode, which lets system administrators flip a switch in the Power 795's firmware and reboot it with only half of the cores in the system turned on, but now they run at 4.25 GHz. That may not be a lot more clocks, but the extra cache and main memory can make a big difference for certain workloads, and a 128-core system can, on many workloads (particularly database processing) do more work than a 256-core box. Howard says about 15 to 20 per cent more oomph per core is typical among early Power 795 testers.
The Power 795 will initially support only 254 PowerVM logical partitions, but Howard says in 2011 the company will expand this to 1,000 VMs per physical Power 795 machine. With AIX workload partitions, the machine will be able to have thousands of virtual machines per box.
Pricing information was not provided for the Power 795. The machine will be available on September 17. The Power 795 will support the same AIX, i, and Linux operating systems as the entry Power Systems boxes also announced today. ®