There are five home screens that you can populate with various widgets and shortcuts from the menu. There are a few unique ones from Acer too, including two carousels, one for your media, the other for your web bookmarks. Spinlets offers several hundred tracks available for free streaming. It's not great for choice, but there are a few big names and, since it's free, it's a promising feature.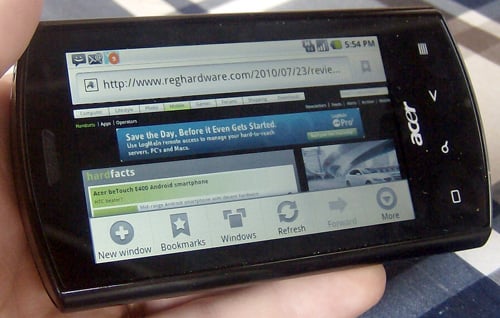 Nifty browsing even with its underclocked CPU
There's also Fooz Creator, which allows you to create a cartoon avatar for yourself for use in social networking. And speaking of which, Facebook and Android Twitter app Twidroid are preloaded, though there's no Motoblur-style app to pull all your messages and updates together.
Unlike several other big-name Android users of late, Acer has gone ahead and installed Android 2.1 Éclair, which means a host of handy updates including voice control, five (as opposed to three) home screens, a phonebook that automatically pulls in your social networking contacts (once you've opened the relevant accounts of course) and the ability to have more than one Gmail account working from one inbox.
It's all powered by a Qualcomm Snapdragon 8250 processor which has been underclocked from 1GHz to 768MHz to help preserve battery life. The underclocking doesn't seem to have obviously affected speed or power, since I didn't notice any significant lag when switching between apps, viewing video or browsing the web.
Acer Sync offers Windows users the chance to synchronise contacts, calendar, photos and video clips using Picasa, Youtube and Google's cloud, so you're always up to date. It's not an option open to Mac users at the moment though, so you'll be stuck with drag and drop when you connect using USB.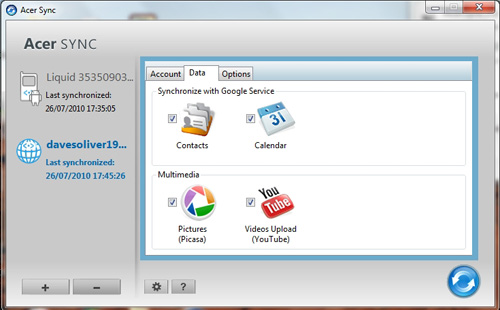 Acer Sync for Windows PC users
The on-screen keyboard is well spaced and sensitive, though the predictive text – which prompts you with alternatives over the letters you're actually typing – takes a bit of getting used to.