This article is more than 1 year old
Panasonic DMC-G2 interchangeable lens camera
Micro Four-Thirds touchscreen tour de force
The HD Movie mode is only 720p, with 1080p maybe being just a little too much data for this AVCHD Lite codec. There is also the ability to record QuickTime Motion JPEG. This might come in handy if you want lower bit rates and a bit more compression to distribute to the web quickly.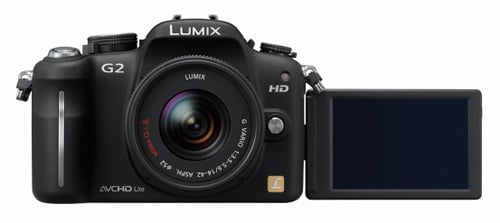 The articulating panel is ideal for challenging shoots
Standard definition is here too – shooting at the most popular sizes, again into QuickTime Motion JPEG video. The AVCHD video is captured with 50 fields per second, which translates to 25 frames per second and is ideal for us trying to edit this stuff here in Europe, although there is a US-centric 60-field/30fps model. The QuickTime Motion JPEG videos are always recorded at 30fps. Odd, but there you go.
There is a stereo mic input, which is great news, as being able to use an off-camera microphone is essential at times. Oh, but what is this? Alas, a 2.5mm input socket, so you're going to need an adaptor straight off. Alternatively, you could use Panasonic's optional DMW-MS1 stereo mic. There is, of course, a built in mic as well, but this records in mono. Video playback can utilise the mini HDMI output which has PAL/NTSC as well as 1080i upscaling options.
Equivalent to a 28-84mm lens on a 35mm camera, the supplied 14-42mm f/3.5-5.6 kit lens is very sharp and smooth in operation. The optical image stabilisation is activated from the menus, rather than a physical switch. The field of view is useful, for anything from small groups of people to respectable headshots. All in all, quite a decent kit lens.
Moreover, the focusing was the most pleasant surprise about this camera and lens combo. It did not fail me once. Well, maybe once – shooting a monkey through a fence – but it did try very hard. This camera is not designed to take on the auteur filmmakers out there, it is for the times we want to get special footage of our nearest and dearest, and they can move fast.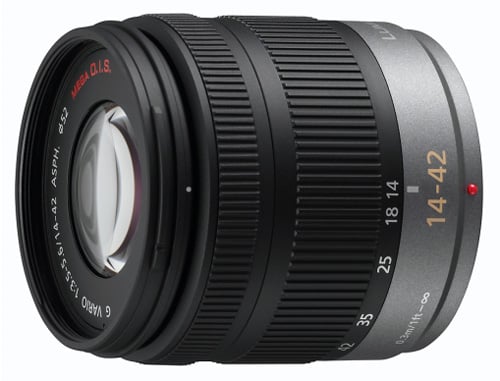 The kit lens turns out to be a surprisingly good all-rounder
The Panasonic DMC-G2 controls are well positioned making it very quick to get to what you need. The left hand top is where you change your focus preferences and metering. I found this ideal for when I didn't get the exposure I expected, as I could immediately step through the three metering options: good old spot, intelligent multiple (144-zone) and centre-weighted.