True Utility Scarab and KeyTool micro multi-tools
007-style gadgetry for geeks
Review My Victorinox CyberTool multiplex knife goes with me everywhere. But while it's bloody useful of disassembling hardware and putting it back together, it's not exactly compact. Ditto your average Leatherman multi-tool.
Hence my interest in True Utility's Scarab, which squeezes a handful of tools down into a 50 35 x 7mm, 46g unit designed to hang off your keychain.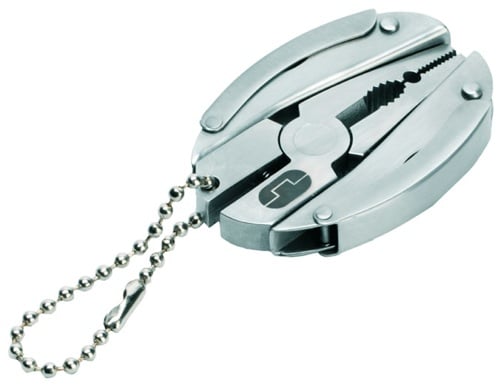 True Utility's Scarab: from this...
If that's still too big, True also offers the KeyTool, a gadget that has eight tools yet is no larger than your average Yale key.
Of the two, Scarab is the beefier object, its stainless steel carapace combining pliers, wire cutter, philips and flat-blade screwdrivers, file, knife and awl. As you can see from the pics, the handles of the spring-loaded pliers/cutter are home to the fold-out tools, which are shielded when not in use by two flip-up covers.
Given the size of the device, not of the tools are large, but they do the job, and the gizmo as a whole feels well engineered and solidly made. Not bad, in short, for eight quid, which is what True is asking for it.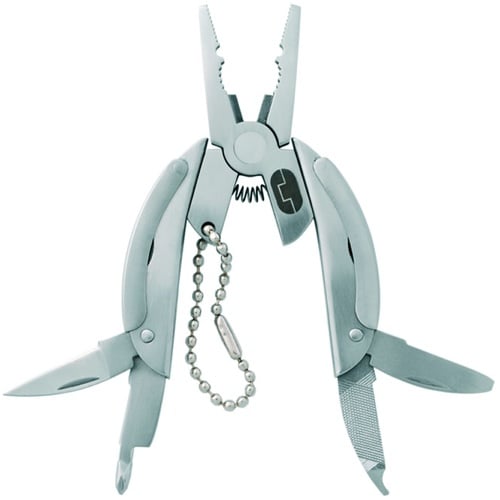 ...to this
There are flaws, primarily those covers which don't open as far as they might to make extracting the tools a comfortable process. And the supplied chain you use to fix the Scarab to your keychain gets in the way too often. You can take it off, in which case you can't attach the gadget to your keys.