This article is more than 1 year old
True Utility Scarab and KeyTool micro multi-tools
007-style gadgetry for geeks
Tools for your inner Bond
The hinges all seem nicely capped, but only time and usage will tell whether the Scarab's construction matches that of the better known brands. Likewise how well it'll deal with the pocket fluff that inevitable accretes onto gadgets like this.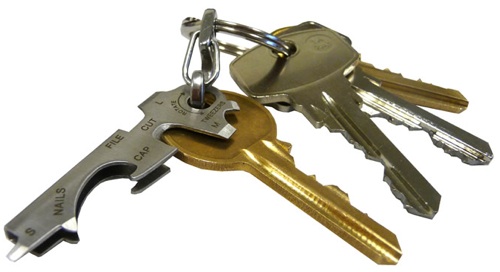 KeyTool fits around - you guessed it - a key
The Keytool doesn't suffer from this because it's punched from a single piece of metal - all its many tools emerge from they way the steel has been cut: file; bottle opener; small, medium and large (ish) flat-blade screwdrivers, curved cutting surface and tweezers.
The latter can't really be used with a key in place, and the medium and large screwdrivers require you to hold the key carefully so they extend sufficiently beyond it to be able to fit inside the screwhead.
You'll need to take care with the bottle opener too as the KeyTool has just too many pointy parts to begin flipping caps with abandon. Go at it too quickly and you'll bleed into your beer.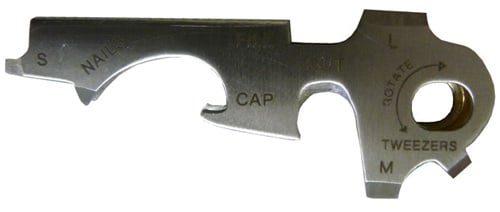 Mind those edges
Of course, it's not a tool you'll use every day, but it's the kind of thing that you can attach to your key ring and forget about until the time comes when you really need it to hand. And since it's only a fiver, why not?
Verdict
True Utility's pocket tools are attractively offered at pocket money prices that belie their quality. Either the Scarab or the KeyTool will make a nifty prezzie for the geek in your life and if they'll never be up for day in, day out usage - they're just too small for that - they look cute and are the sort of gadgets you can secrete away in jacket pockets and bags for those times you leave your more practical multi-tool hardware at home. ®

True Utility Scarab and KeyTool micro multi-tools
Solidly made but small seven-tool gadget for your keychain.

True Utility Scarab and KeyTool micro multi-tools
The tool you can forget about until you need it.