This article is more than 1 year old
AMD: 'Bobcat' smaller, faster than Intel's Atom
Netbooks. Not servers. For now
AMD says that its upcoming "Bobcat" core for netbooks and notebooks is smaller than a single-core Intel Atom chip – and faster. According to the company, this low-power architecture could eventually follow Atom into the server market, but at the moment, that territory is still reserved for the "Bulldozer."
The annual Hot Chips conference is going on this week at Stanford University, and it is a bit more subdued that usual because so many different processors have already been announced this year. Advanced Micro Devices, which has lost a bunch of market share to rival Intel, has been talking up its future "Bobcat" and "Bulldozer" cores for PCs and servers, respectively, and is providing a few more details on these cores at Hot Chips.
But don't get too excited. The Bulldozer chips have a vague 2011 ship date and AMD is not saying much more than it already has in the past several months. The Bulldozer cores, as El Reg told you two weeks ago, have a modular core design where L2 cache, instruction fetch and decode units, and floating point unit schedulers are shared across two cores, which have their own four pipeline integer units and integer schedulers as well as a 128-bit floating point unit.
Depending on the chip, from one to four of these Bulldozer modules are plunked onto a single chip, with an L3 cache, a DDR3 memory controller, and a northbridge for linking the cores to external peripherals shared by all of the modules on the chip. The quasi-core at the heart of the dual-core Bulldozer module is a new core, not a reworked variant of the K8 core used in the prior several generations of Opteron processors.
In the case of the future "Valencia" six-core and eight-core processors, one of these eight-core Bulldozer modules is put into a single package for the C32 socket. For the high-end, two of these eight-core modules are put side-by-side in a single package, called "Interlagos," and linked by HyperTransport, yielding a 16-core processor package (and a twelve-core variant with two dud cores per chip, and probably some of the L3 cache turned off, too). This Interlagos chip plugs into the existing G34 socket.
That means server and workstation makers will be able to deliver systems with 33 per cent more cores and 50 per cent more performance as they can do with the existing "Magny-Cours" Opteron 6100 processors. Ahead of the Hot Chips conference three weeks ago, John Fruehe, director of product marketing for server/workstation products at AMD, blogged those performance numbers in early August, stealing his own Hot Chips thunder to cover for some weak financials.
Fruehe has also said in interviews with El Reg that Bulldozer's shared component approach results in a Bulldozer module with two quasi-cores, and yields about 1.8 times the performance as two current Magny-Cours cores. That's a 10 per cent performance hit, clock for clock, for every pair of cores, but much lower power consumption because of the shared nature of the Bulldozer modules.
That means expanding the core count from 12 to 16 is about 20 per cent of the extra oomph, and the other 30 per cent is coming from changes in the instruction stream and increased clock speeds. It is our guess that AMD will try to push clock speeds up to around 2.75 GHz on its top-bin Interlagos server chips.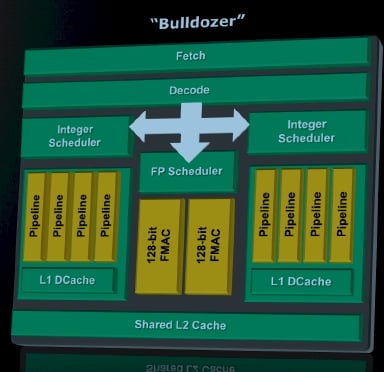 AMD's Bulldozer Opteron modular core.
Ahead of Hot Chips, Fruehe would not confirm the clock speeds on any of the Bulldozer-based parts. But what he did say is that on the commercial workloads that AMD is targeting with the Opteron chips, 90 per cent of the workload is running through the integer unit and 10 per cent is hitting the floating point unit. By sharing the other components on the Bulldozer core, AMD can reduce the effective size of a core and by moving to a 32 nanometer, silicon-on-insulator/high-k metal gate wafer baking process from GlobalFoundries, it can shrink the whole shebang quite a bit from the current 45 nanometer processes. That should lead to higher clock speeds than are currently available on Opteron 6100s.