Here's a sign that Apple is not only thinking seriously about touchscreen iMacs, but that it has a rather smarter view of the technology than its rivals.
A just-discovered patent application - kudos to Patently Apple - shows not a touchscreen machine per se but a clever stand designed to make using a touchscreen desktop all-in-one a darn sight easier than it currently is.
Look at the picture and you'll see it's bloody obvious: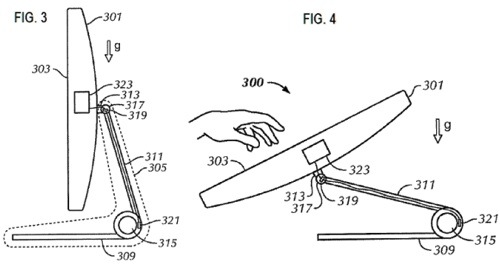 Yet of all the vendors currently pitching all-in-one desktop computers with touchscreens, not one has had the wit the figure out that users might also want a more shallowly angled screen.
Many Reg Hardware readers understand this and have commented in the site's forums that touchscreens are all very well, but they're not something you want to be stretching your arms toward for long periods of time.
Apple's patent application appears to understand that too and turns the iMac into a glorified tablet. ®