An Australian cave system has become the world's first attraction to offer self-guided tours in Klingon.
Launched at OzTrek3 in Sydney this past weekend, the tour takes visitors into deep space, sort of, in the language of those whose foreheads resemble the attraction itself.
The Jenolan Caves are a National Park and tourist attraction in New South Wales, approximately 100 miles west of Sydney. Featuring 11 show caverns, 25 miles of underground passages, rivers and breathtaking rock formations, the Jenolans are one of the oldest cave systems in the world.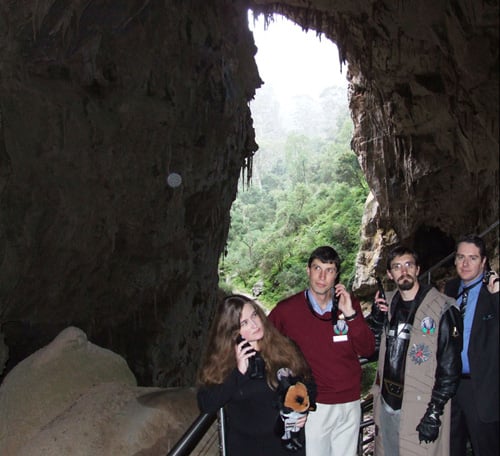 Trekkies on a recce
The caves' connection to Star Trek was established in a classic Next Generation episode, with the appearance of the USS Jenolan, a Sydney Class starship carrying Montgomery 'Scotty' Scott. In the episode, Relics, Scotty, chief engineer from the original Enterprise, was pulled out of suspended animation after 75 years in a transporter buffer.
Klingon experts Michael Roney Jr - aka naHQun - and Tracy Canfield flew in from the United States to record the translations, which become the eleventh language featured on the tour.
Guided in Klingon using a digital audio device, tourists can explore the Nettle Cave, the most popular cavern of the group, visited by roughly 200,000 people a year. How many future visitors will choose the Klingon option remains to be seen, but for many of the fanbois out there, it'll be worth the Trek. ®