Google has enabled push email on the iPhone, so now received Gmail can interrupt iPhone users just as irritatingly as the native app supplied by Apple.
Gmail users have long been able to receive pushed notifications in the iPhone mail application, just by telling the iPhone it was a Microsoft Exchange account. But now the Gmail application itself can receive those notifications - though only from one account of course.
That limitation also applied to the iPhone's native mail app, at least until recently, which annoyed many users who wanted to keep their work and home email accounts separate. The new Gmail app is also restricted to one account, but combined with the native application it enables the user to receive pushed emails from two separate accounts into separate email clients.
The new Google Mobile App, already in the UK iTunes store, also accepts pushed Calendar events, and pops up reminders right across whatever it is you're trying to do: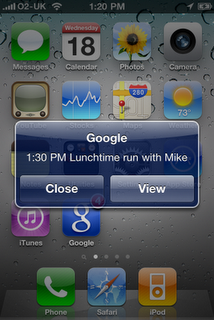 Those notifications still pop up right across the iPhone screen, to the intense irritation of anyone not already accustomed to the Jobsian way of doing things.
Google has also integrated some search features, as one might expect, but it's the pushy nature of the new client which is the major development, as explained by Google's blog. ®
Similar topics