Verbatim MediaShare 1TB Nas
Home and away
Review Verbatim is best known for its range of straightforward and affordable hard disks, memory sticks and other storage devices. However, its new MediaShare drive is a little more ambitious. The low-profile aluminium chassis bears more than a passing resemblance to Apple's Mac Mini or AppleTV, but it's essentially a good-looking Nas drive with a few extra media-streaming features thrown in for good measure.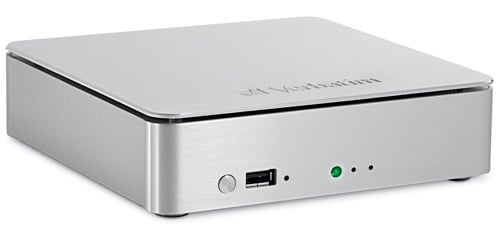 Verbatim's MediaShare offers phone access, for a price
I tested the 1TB version, which costs a very reasonable £150, and there's also a 2TB model available for £200. At the back of the unit you'll find a Gigabit Ethernet interface for connecting to your home network, along with two USB ports and an eSata port that can be used to connect additional storage, if required.
There's also a third USB port on the front of the unit, accompanied by an 'easy transfer' button that enables automatic copying of files from a flash drive straight onto the MediaShare's internal storage. There's no HDMI port, so you can't directly connect the MediaShare to an HD TV in order to play your media files, but it does support DLNA/UPnP networking so that you can stream files to a games console or other DLNA-compatible device.
Unfortunately, I encountered a few problems getting the MediaShare installed and set up properly. The MediaShare did show up on my office network as soon as I plugged it in and connected it to my router – although, confusingly, it appeared as two separate but identical volumes labelled 'MediaShare' and 'MediaShare2'. However, things ground to a halt when I tried to install Verbatim's software and configure the MediaShare for use on the network.
Even an eSata port is included for hooking up additional storage
The installer program requires you to set up a user name and password, and to register the MediaShare with the Verbatim web site. Unfortunately, the Installer repeatedly announced that it wasn't able to register the device, forcing me to put in a call to Verbatim's technical support. When Verbatim provided me with a new username, the MediaShare began running properly, but that doesn't bode well for less-experienced users setting up at home.