Want more features? Pay more money
I was also a little disappointed when the Installer program finally did its job and then promptly announced that certain 'premium' features – such as the ability to access the MediaShare over the Internet with a mobile phone – are only available on a 30-day trial basis, and that you have to pay an extra $20 to continue using these functions after the trial period has ended.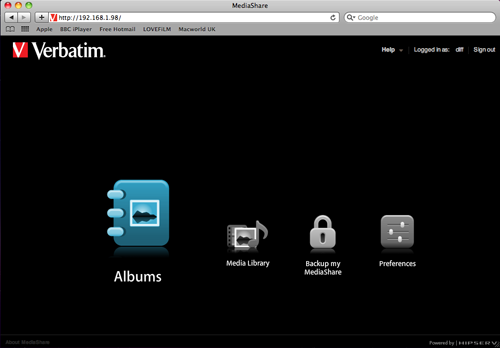 Once logged in the layout is simple and obvious
Once past those initial obstacles, the MediaShare can be used as a straightforward Nas drive by accessing it from the desktop on a Mac or PC. Alternatively, you can use Verbatim's MediaShare software to provide a different interface for organizing your files. You can also access the MediaShare remotely over the Internet using a browser-based Flash application that provides a graphical interface for viewing your media files. And, of course, there's the phone access, for a price.
Remote access is very easy, as you simply log in with your username and password at the Verbatim web site. It works well too, as there's a basic hierarchical view that displays the files stored on the MediaShare, along with some more fancy graphical features such as a 'cover' mode that is similar to the album artwork display in Apple's iTunes.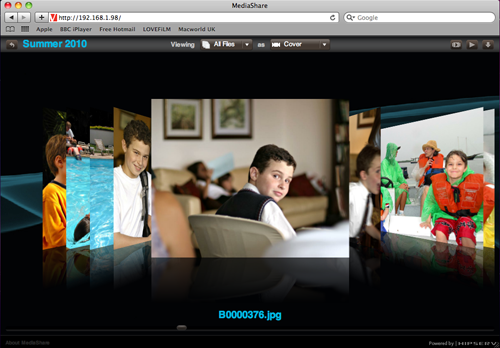 Coverflow-style browsing of media files
You also have the ability to create 'albums' that can be viewed over the Internet by people that you specify. These albums can contain music and video files as well as simple photos, and allow you to stream media files across the Internet.

Similar topics