Apple to reveal musical something on September 1
iPods, Apple TV, cloudy tunes?
---
Fanbois, mark your calendars: Apple has sent out invitations to a music-themed event to take place in San Francisco next Wednesday morning.
With customary Cupertinian minimalism, the email message provides no information about what will be announced at the invitation-only event — just the 10:00am starting time and the venue, the Novellus Theater at the Yerba Buena Center for the Arts, site of similar Apple roll-outs.
The only hint as to what might be announced at the event is the invitation's image — a C.F. Martin Dreadnought guitar with a sound hole in the shape of the Apple logo: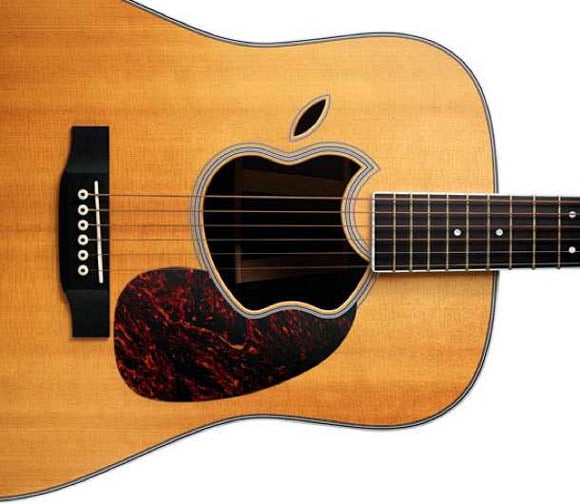 Possible candidates for new products to share the stage with CEO Steve Jobs are updated iPods, the feverishly rumored Apple TV, and maybe even the launch of an in-the-cloud music service.
We're willing to bet on the iPod refresh. Last September 9, Apple introduced the video camera–equipped iPod nano along with upgrades to iTunes, the iPod classic and iPod touch, and a new set of colors for the iPod shuffle. It's about time for a full-scale iPod line refresh — one that will likely include an iPod touch with a front-facing camera that'll support Wi-Fi–based FaceTime video conferencing as is found in the iPhone 4.
The recently rumored cloud-based Apple TV and music service, we're less sure about. Both cloudy offerings would require a lot more data-center oomph than Apple currently has on tap, and that $1bn data center that it's constructing in North Carolina won't be finished until later this year.
From where we sit, launching the Apple TV would make more sense nearer to the holiday shopping frenzy later this year, while an iPod refresh makes sense now during the "Buffy and Biff are about to go to college" buying spree. And then there's the off-message dissonance of a guitar being used to promote an Apple TV–launching event.
We'll see — and although Vulture Annex is only a block or so from the YBCA, we won't be trekking that short distance to bask in the Jobsian reality-distortion field. As longtime Reg readers know, we're longtime personae non grata in the eyes of Cupertino. ®