Google has announced that you can now place and receive phone calls inside Gmail, a day after a report revealed that such a service was under test.
As expected, the company's Gmail phone-call service works in tandem with Google Voice, the new-age telephony web service that lets you attach a single phone number to multiple phones and turn your voicemail messages into emails.
"Google Voice lets you manage all your phone communications and seamlessly make and receive calls on any of your existing phones. But what if you don't have your phone with you? Or what if you're in a place with poor cell phone reception, or you're traveling internationally and don't want to incur expensive roaming charges? Wouldn't it be great if you could use your computer to make or receive calls?" the company says in a Wednesday morning blog post.
"Starting today you can use Gmail to receive or place Google Voice calls."
Essentially, Google Voice users can now include Google Chat — the chat client that dovetails with Gmail — in the list of phones where they can be reached. "The next time someone calls your Google Voice number, Gmail will notify you of an incoming call," Google says. "You can take the call or even listen in as the caller leaves a message, in a single step right from your computer."
You can also place calls from Gmail. The email service will now include a "call phones" link that brings up a dial pad. When you make a call from Gmail, recipients will see your Google Voice phone number as the outbound caller ID, and all international calls will be paid for using your Google Voice calling credit. International calls use the same rates as the existing Google Voice. Calls within the US and Canada are free.
Google Voice has long offered free calls and texts within the US and Canada as well as low-cost international calls.
The service will be rolled out across the US and Canada over "the next few days." When the service is available, you'll see the "call phones" link on the left-hand side of the Gmail interface. You'll also need to install Google's existing voice and video plug-in.
The service will not be available to those using Gmail through Google Apps. "If you're using Google Apps for your school or business, then you won't see it quite yet. We're working on making this available more broadly — so stay tuned!" the company says.
Google believes that Google Voice is the ultimate in human communication: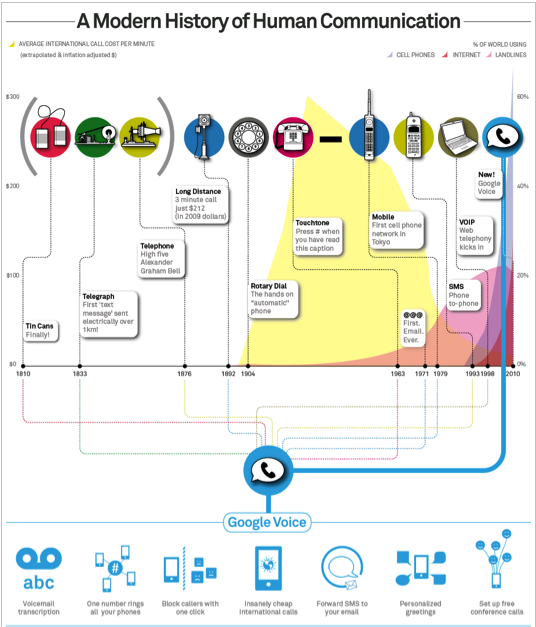 Click for a full-sized image in all its radiant glory
®