Paris Hilton entertained her 2,520,223 Twitter followers yesterday with a quick tweet revealing that some bloke had just tried to enter her Hollywood Hills pad armed with "knifes".
The patron saint of El Reg's space plane mission wrote: "So Scary, just got woken up to a guy trying to break into my house holding 2 big knifes. Cops are here arresting h".
Quite what happened to Paris's "im" is unclear, but she did get it together to post this pic of the intruder copping a cuffing at around 6.30am: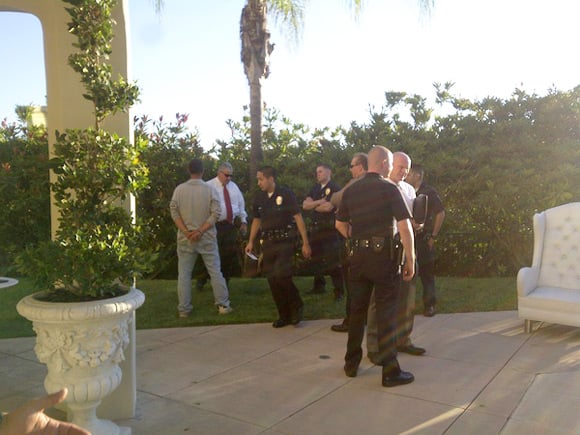 She later twittered: "Thank you everyone for all your texts of concern. Love you all."
A spokeslackey told a concerned press yesterday: "Paris is shaken, but is unharmed and well."
We're relieved to confirm that Ms Hilton is indeed battling on, and last night told her fans: "Feel so much more relaxed. Just went and got adjusted by my chiropractor and got a facial at Kate Somerville Spa. :)" ®
Bootnote
Anyone who comments that they'd be delighted to give our Paris a facial will be banned from The Register for the statutory one month.