This article is more than 1 year old
Apple snubs O2's handset enviro-spec rating
Palm Pre least green in shrunken field
O2 has added environmental impact to its handset specifications, rating the Palm Pre as the worst while Sony Ericsson's Elm left the smallest footprint.
The new labels, which indicate the environmental impact of each handset based on O2's own criteria, will be applied to 93 per cent of the devices supported by the network - a reminder that both RIM and Apple are still niche players. Quite why those companies declined to get involved isn't clear, though a careful look at the criteria gives some clues.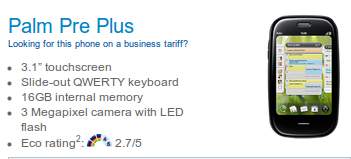 The Palm Pre is the lowest scorer while Sony Ericsson's Elm managed a score of 4.3
O2 worked with the Forum for the Future to create the criteria, which are public (pdf), but rather than focus on the handset itself O2 decided to include the performance of the company that designed it - rewarding corporate greenies to the tune of 11 per cent of the rating.
Not just green either - ethical policies such as labour standards and employee safety are included too, so suicides at Foxconn won't do Apple any good. That will, however, play well with Nokia and Sony Ericsson who've both adopted a wider green agenda. Apple may have greened up its manufacturing processes, but it's less forthcoming about unrelated initiatives.
More than seven per cent of the rating comes from the packaging too - another area where the iPhone isn't going to score well, and Apple's failure to adopt MicroUSB charging counts against it too.
A quarter of the rating isn't about the hardware at all; instead it's about how the phone can help you adopt a greener lifestyle. Mapping and GPS gets points as it removes the need for separate hardware, while bundling NFC is considered green as it makes for "easier public transport use".
Apple was apparently approached to take part, but declined to get involved, while RIM is planning to rate its handsets next year. Given that it apparently takes 20 minutes to rate a handset, once you've got the official spreadsheet from O2, we're obliged to assume that both companies gave it a shot and didn't like what they saw. ®