Ten... Wireless Headphones
Wired for sound? Not any more!
Product Round-up The last batch of stereo Bluetooth headphones I looked at, back in 2008, were something of a mixed bag, with some cumbersome designs and very variable audio quality. Fortunately, the current generation provides much better stereo quality, and we'd happily recommend any of them as an alternative to a conventional set of wired headphones.
One word of warning for Apple fans: the iPod/iPhone/iPad don't support the Bluetooth AVRCP protocol, so while you can adjust the volume directly from the headphones you need to use your mobile device's own controls to select tracks rather than controlling playback from the headphones themselves.

Jabra Clipper
Jabra's slimline Halo headphones are a good choice for lounging around at home, but if you're out and about with your Bluetooth mobile then the new Clipper is a more practical choice. The Clipper is a sturdy metal-and-plastic Bluetooth adaptor that clips onto your clothes while you walk around or pound the treadmill at the gym. The little in-ear phones supplied with it provide decent stereo sound for listening to music, and there's also a built-in microphone for making calls. Shop around and you can pick it up for as little as £30.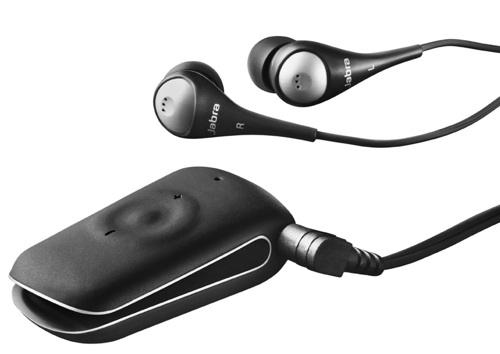 Reg Rating 80%
Price £45
More Info Jabra

JayBird SportBand 2
The JayBird SB2 didn't make a great first impression. The promotional pics of a bosomy blonde in a sports bra are decidedly naff, and the luridly-coloured plastic headband looked just plain rubbish. However, the SB2 proved me wrong. The headband turns out to be both robust and flexible, and well suited to wearing when you're out doing sporty stuff. The sound's very good too, producing a warm, textured tone that rivals some of the more expensive models reviewed here. It also supports the Apt-x codec for even better sound quality – although you'll have to fork out an extra £30 for a separate dongle if your handset doesn't already support Apt-x.