Apple has filed a patent application that supports the stacked-component design of its A4 chip used in the iPad and iPhone 4, and points to further future integration of multiple system components on the same die.
The filing, "Systems and methods for providing a system-on-a-substrate," describes methods for reducing the size of a device by combining — in the words of the application — "all of the components of the system on the same microchip."
And by "all," the application is rather inclusive: "The components of a system can include one or more of a processor, memory (e.g., RAM, SDRAM, DDR RAM, or ROM), CODEC circuitry, Input/Output ("I/O") circuitry, communication circuitry, accelerometers, capacitors, inductors, or any other suitable components."
Apple's A4 chip isn't quite as all-embracing. As the teardown junkies and part-suppliers at iFixIt showed when they partnered with Chipworks to deconstruct Apple's ARM-based part, the A4 stacks two layers of RAM above the processor die in the A4's package: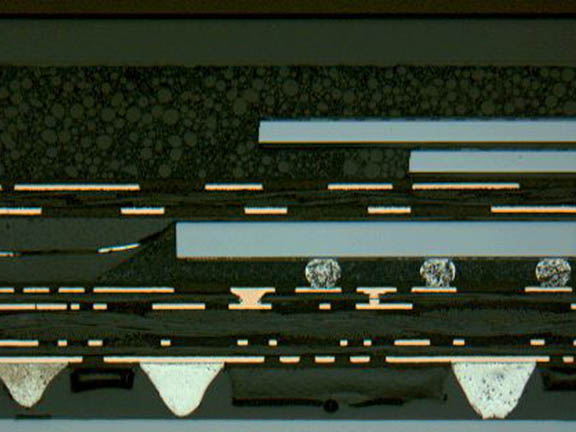 The A4, cut in half: that grey slab on the bottom is the ARM chip, with two RAM slices on top (source: iFixIt)
This technique is essentially what Apple describes in the first, and simplest, iteration in its patent filing: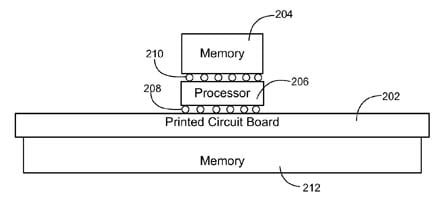 Simple: memory on top of a processor on top of a PCB, with more memory underneath
Apple's patent filing goes further, though. It foresees a time when far more components can be placed on the same die: hence the term "system-on-a-substrate."
In one "embodiment" — patentese for "example" — a substrate can combine multiple components such as any or all from those listed above. That substrate, packaged up as a single chip, can then sit on a flexible printed circuit board ("flex"), which can extend beyond the package to support other components: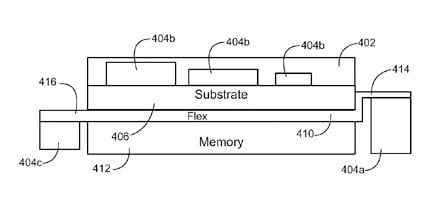 Now we're getting somewhere: multiple components on the same substrate
The filing also envisions embodiments in which the substrate can support both a flex layer upon which, say, memory is installed, along with a series of other components combined into their own package: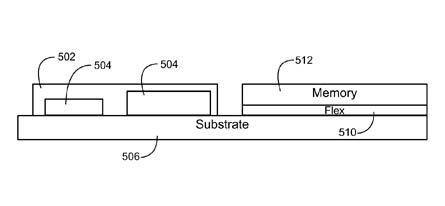 Various embodiments — such as this one — mix and match components, flex, and substrate
The goal off all this mixing and matching and cramming and combining is component shrinkage. According to the filing, a printed circuit board may require traces that are 60 micrometers in width and spaced 60 micrometers apart, while a substrate can get away with 15/15 — that would allow, according to the filing, a four-layer, 0.2 millimeter–thick substrate to replace a six-layer, 0.5 millimeter–thick PCB.
In addition to a substrate's straightforward size advantages, the ability to stack components on top of one another — as is done in the A4 — provides another opportunity to shrink a part's footprint.
In handheld, pocketable devices, size does matter — and this patent filing describes a series of ways that Apple could pack more functions into smaller spaces. Whether such a straightforward idea as component-stacking and substrate-packing is patentable, however, remains to be seen. ®