A software error, combined with an unfortunate user action, led to a US military robot helicopter - developed from a manned version and capable of carrying a fearsome arsenal of weapons - straying into restricted airspace near Washington DC, according to reports.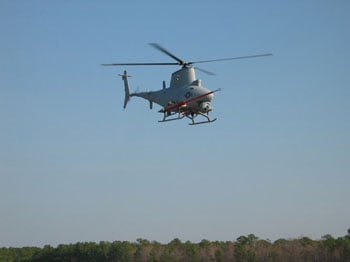 La la la, I'm not listening Mr Fleshy
US Navy captain Tim Dunigan told Aviation Week that an MQ-8 "Fire Scout" robochopper, carrying out a test flight from the Patuxent River Naval Air Station in Maryland, "lost link and proceeded 23 miles north/northwest into restricted airspace," on August 2.
The statement from Dunigan continues to add that "the operator team shifted to another ground control station, restoring link and successfully commanding the vehicle to recover at Webster Field".
Av Week also quotes Rear Admiral William Shannon as attributing the problem to a "software logic flaw".
Losses of communications between unmanned aircraft and ground operators are a routine event, but seldom have serious consequences. Robot planes and choppers lacking instructions from their human masters will normally circle where they are when comms go down, and control is almost always restored shortly thereafter - as in fact happened with the rogue Fire Scout.
The difference here is that the MQ-8 failed to follow its built-in failure protocol, instead continuing on course. Unmanned aircraft are generally restricted to operations in special military-controlled airspace and are forbidden to enter areas governed by normal civil rules.
"We found a software anomaly that allowed aircraft not to follow its preprogrammed flight procedures," Dunigan tells Av Week. "We have identified the issue and have aircraft operating restrictions that will prevent this from happening again."
It appears that the ground operators were implicated in the problem, though blame doesn't attach to them. A command apparently reached the Fire Scout just as it was about to go into its comms-failure routine, which caused the robocopter to abandon that plan and instead head off the reservation.
No major panic resulted from the incident, as Navy controllers remained in touch with the Federal Aviation Authority (FAA) throughout and the Fire Scout did at least manage to "squawk"* that it was experiencing lost comms to air-traffic controllers, alerting them to the situation.
The Fire Scout is expected to return to flight ops, software rectified, in early September. The Navy has plans to deploy it aboard frigates and destroyers, which could carry two MQ-8s in the space taken up by a single manned chopper. The robocopter is also being eyed by the US Coast Guard for seagoing service, and the US Army has also considered it.
In some variants, the Fire Scout would be able to carry 70mm Hydra rocket pods or Hellfire tankbuster missiles, as well as a variety of sensors or other payloads. It is based on the Schweizer 333 manned helicopter, with the cockpit removed and enhancements to the rotors.
Though this month's MQ-8 departure from designated airspace is unusual, it is not unique. Operator error combined with communications loss led to a Predator-B unmanned aircraft operated by the US border authorities crashing near Nogales, Arizona four years ago.
In another incident, ground operators failed to regain control over a rogue MQ-9 Reaper "hunter killer" roboplane above Afghanistan, which had again failed to follow safety protocols. In that case, the errant droidcraft had to be shot down by a manned US fighter to prevent it crossing the border and violating a neighbouring country's airspace. ®
*Secondary-radar transponders, carried by the great majority of aircraft nowadays, not only make a plane or copter show up better on an air-traffic display but transmit or "squawk" a numerical code to help with identification. This code can also be used to notify emergencies such as hijack, lost comms etc.