This article is more than 1 year old
Sony NEX-5 interchangeable lens camera
Big shot
Review I have to admit upon opening the box and finding a silver-bodied version of the Sony NEX-5 with the 18-55 zoom, my first thoughts were: this is the coolest camera ever.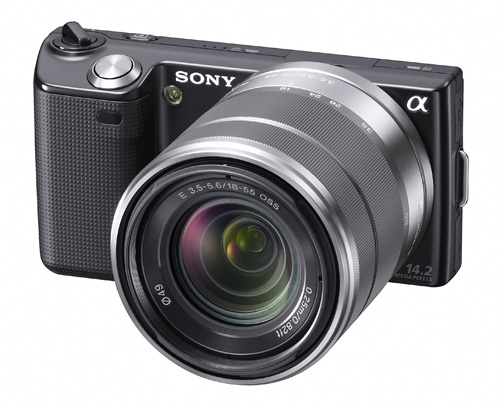 Sony's NEX-5 with the new E-mount 18-55mm zoom lens
Why? Well, Sony has applied some rather simple notions here: put a load of decent glass in front of a good-sized sensor, tack on a operating system that gives you basic control and great auto programs, make the flashgun a pocket add-on and finish it all in brushed metal. The upshot of it all is a camera that looks and feels the business.
With a crowd-pleasing 14.2Mp APS-C CMOS sensor, when married to its E18-55mm F3.5-5.6 lens – which is deadly silent when in AF mode – the NEX-5 produces images to rival DSLRs, much further up the food chain.
Unlike the NEX-3 (its 720p sibling), the NEX-5 records 1080i AVCHD HD movies and, with quality lenses, produces footage to rival devices with even larger sensors. Currently, there are only a handful of E-mount Alpha lenses available, but there's an official adapter for Sony Alpha and Minolta optics, as well as third party offerings for other makes.
With no viewfinder, the 921k dot, 3in articulating LCD screen takes care of business and gives a very high contrast image preview. The panel feels solid with a great finish round the edges. I grew to like the Background Defocus Control – being able to adjust depth of focus with a scale on-screen live, instead of using f/stops. Thankfully, this mode's starting point is at the best extreme for this effect.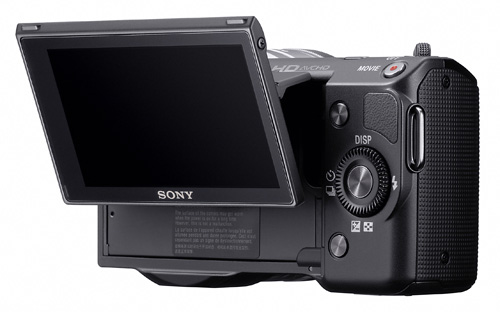 The articulating LCD panel reveals most of the controls, as buttons kept to a minimum,
Choosing not to have a dial for the shooting mode is inspired. Many never move that dial anyway and it is the first function of the NEX-5's jog wheel, by default. The menu system is very simple and easy to navigate, once you're on Sony's wavelength. When you've determined that the ISO would probably fall under Brightness and Colour, rather than say Camera settings, then it all starts to make sense. We are in a RGB/YUV world, after all.