A mobile phone built into a black dress? Marvellous. And with pictures too? Hold the science page for this one, but don't look too closely.
CuteCircuit has announced a little black dress with a built-in mobile phone. It's all controlled with a wave of the arm and good to look at too. But while one might assume the announcement is just shameless self-promotion on the part of CuteCircuit the idea does warrant some attention - just not very much.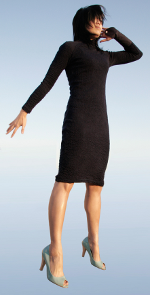 Ready for sale next year. Really.
Apparently the dress has a SIM slot under the label, and calls can be answered with a bend of the arm detected by the dress's "gesture-recognition technology" - best not to reach for a pen during the call. The same gesture is used to make outgoing calls, to a limited range of pre-registered numbers. The designer suggests one might be an operator who could then connect the call, but fails to explain how the wearer would select from even a limited range of options.
We've also asked about how the battery is hidden, not to mention the necessary phone circuits, but are still awaiting a response. CuteCircuit's other electronically-enhanced clothing can be washed at 30 degrees once the battery has been removed, so we'd assume the M-Dress will have the same facility.
CuteCircuit sells a range of dresses and tops with lights embedded in them, for Eurovision Song Contest entrants among others, but it's a long way from button-cell-powered LEDs to a mobile phone, and creating waterproof circuits for the latter is a challenge indeed.
Not that CuteCircuit is the first to embed phone functionality into clothing: Eleksen has been producing washable electronics for years, including Bluetooth-connected jackets, though it relies on old-fashioned buttons for interaction, and is a lot less sexy: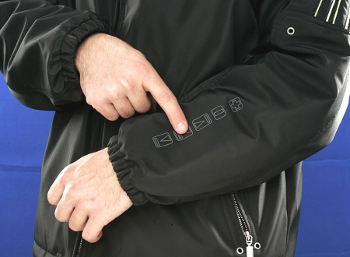 Eleksen's effort, hampered by having to be real
Mobile phones in clothing will come eventually, and Bluetooth in a dress isn't inconceivable, but a mobile phone embedded in a little black dress for 2011 - that's just good PR. ®