New photos gleaned by the Mars Express spacecraft in orbit about the red planet have failed to shed any light on the origins of an "enigmatic" elongated crater named Orcus Patera.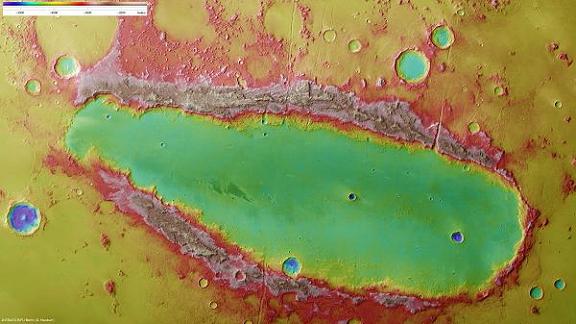 Interstellar alien spaceship prang skidmark?
Orcus Patera lies on the border of Mars' Elysium and Amazonis plains, between the colossal volcanoes Elysium Mons and Olympus Mons (the latter is the largest mountain known to humankind). It was first imaged, indistinctly, by the USA's Mariner spacecraft in 1965.
Even a casual glance shows that Orcus Patera is not a common-or-garden circular impact crater of the sort which speckle most of the planets and moons of the solar system. Its flat floor and odd shape would tend to argue rather that it was formed by a volcanic eruption like some of its neighbours; but the shape of its walls, which rear 1800m above the surrounding plain, is more suggestive of a normal impact crater caused by a falling meteorite.
Boffins had hoped that recent passes overhead by the Mars Express survey craft would tell them more, perhaps offering a clue to how the strange crater appeared. But, though the new Mars Express images do offer much more detail than was available previously, it seems that there's nothing conclusive.
The ESA has this to say, in statement issued on Friday:
However, the most likely explanation is that it was made in an oblique impact, when a small body struck the surface at a very shallow angle, perhaps less than five degrees from the horizontal.
"Small object" and "very shallow angle" are enough for us. Plainly, we're talking here about an alien spaceship, its propulsion crippled, attempting a very-high-velocity glide landing through the evanescent Martian atmosphere - and cocking it up. Coming in too hot and high, the ET pilot ploughed into the Elysium Planitias at extreme speed: his ship, massive and built of advanced materials as befitting an interstellar craft, scarring the very face of Mars in its violent disintegration.
There has to be a sporting chance, in fact, that the alien ship yet lies preserved within its eternium-powered force bubbles, sealed within the now-cooled lake of molten rock it created as it crashed. That sounds like a robust justification for early human missions to Mars to us here on the Reg space desk - or anyway, plenty more excellent rovers, survey aeroplanes etc.
One theory even has it that the alien ship / meteorite which formed Orcus Patera actually ricocheted back into space after the impact, skipping off its self-generated lava surface like a stone off water. (Perhaps this was a particularly radical version of atmospheric braking employed by the more gutsy alien starship pilot of long ago.)
There are some more pics available here, courtesy of the ESA. ®