Acer Aspire One D260
A great-value option
Review Acer has churned out some impressive models in its Aspire One series, and the D260 is its latest creation. At 1.21kg, it's one of the lightest 10.1in netbooks available, and throughout testing it remained impressively cool with no significant hotspots on the keyboard or wrist rest.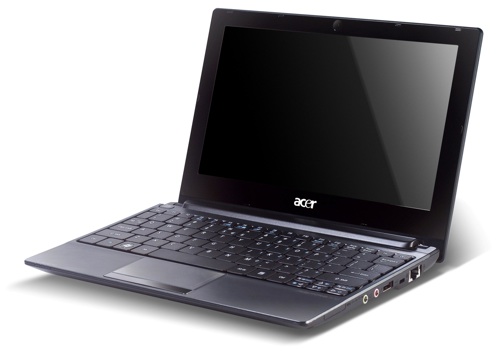 The keyboard is of the low-profile variety and features large keys. It's not as comfortable as some of the chiclet keyboards I've used, though, and the glossy touchpad could do with a bit of texture. The touchpad also refused to work a couple of times during testing. Acer told me this is most likely a fault with my review sample and is shipping out a replacement – if that one suffers the same problem, which I doubt it will, I'll post an update.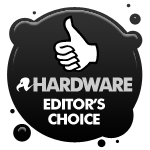 Acer has done a good job in terms of limiting the D260's power consumption, and its 48Wh battery was able to keep the lights on for five hours and nine minutes. This suggests a power draw of 9.3W and, sure enough, when I got the power meter out it danced between 9-10W when looping Reg Hardware's standard test video in VLC – most netbooks average around 10.5-11W in this test. The screen wasn't quite as bright as others I've seen, which could be areas where it's getting some of the power saving from, but it's by no means dim.
Unlike most netbooks, the belly of the D260 doesn't contain any quick-remove panels, so impromptu upgrades could prove difficult.
Verdict
The keyboard and touchpad might not excel, but at just £249 this is a great value netbook with surprisingly good battery life. ®
Thanks to SaveOnLaptops for the review sample.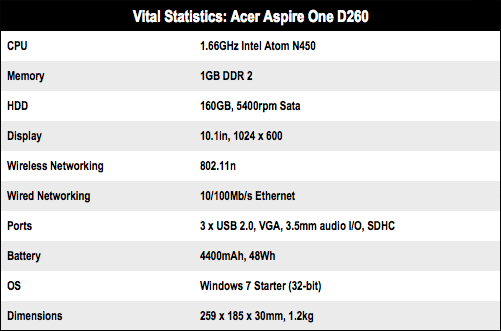 Acer Aspire One D260
An intel Atom N450-powered netbook with a 10.1in screen.