Asus Eee PC T101MT
Take the tablet approach
Review The Eee PC T101MT differs from the majority of netbooks in a number of ways, with the flip-and-twist touchscreen display being the most obvious.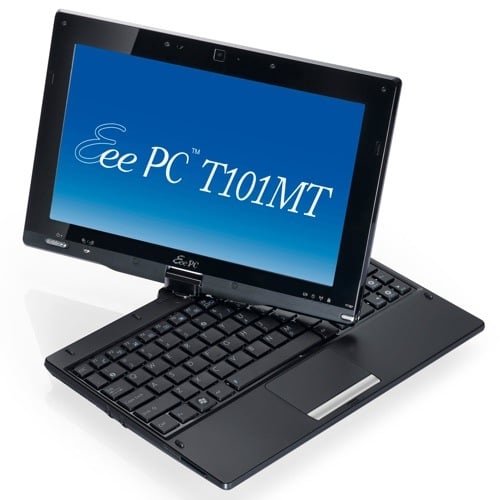 The screen is multi-touch - although only recognises two fingers at a time - and also of the resistive variety, so it requires a slightly firmer touch compared to capacitive alternatives. Switching Pen Mode on makes it a single-touch display, which allows for scribbling using the included stylus without your palm interrupting proceedings.
The touchscreen coating gives the display a nasty mottled effect, which hampers overall image quality, and both brightness and viewing angles are also reduced. At 1.4kg, the T101MT is also slightly heavier than the average netbook.
Conventional input with the keyboard and mouse is good, with well-weighted keys and a responsive touchpad. There's a nasty amount of keyboard flex, though, which is never nice to see.
Given its touchscreen display, Asus has sensibly preinstalled Windows 7 Home Premium which, unlike Starter, supports multi-touch and handwriting recognition. It appears to have an impact on battery life, though, with the T101MT only lasting 3h 28m in the video-loop test.
A Linux-driven OS, Express Gate, is included and can be booted in under 30 seconds, providing web, photo-viewing and Skype functions.
Verdict
Bulky and expensive, you need to be very keen on touchscreens to consider the T101MT. ®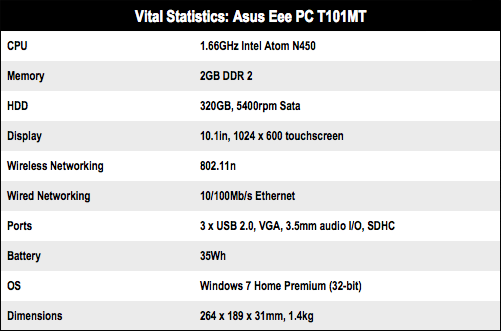 Asus Eee PC T101MT
A 10.1in tablet netbook with touchscreen display