HP Mini 210
The typist's favourite?
Review With its curved chassis, HP's Mini 210 has a slightly different look to most netbooks. Usability is good and the keyboard stretches right to the very edges. And with responsive, well-spaced keys, it has one of the best netbook keyboards I've ever typed on. The only anomaly is arrow key section – the up and down keys are shrunk and sandwiched between the left and right ones, which takes some getting used to.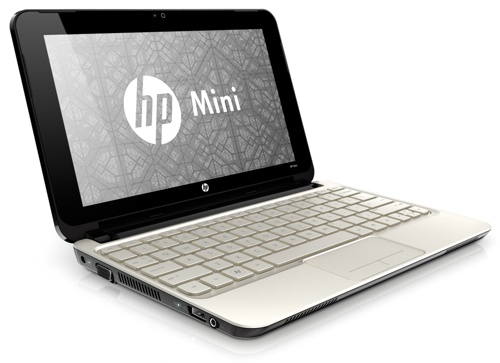 The touchpad buttons are integrated into the touchpad itself, which isn't a great design since pressing one of the buttons can be mistaken as an instruction to move the pointer, and vice versa. The Mini 210 comes with a 250GB hard drive, and HP has seen fit to use a 7200rpm model as opposed to the netbook-standard 5400rpm. Thanks to this speedy drive, the netbook posted a decent PCMark05 HDD score of 6348.
Faster drives are more of a drain on the battery, but the Mini 210 did well here, its 66Wh battery powering on for 5h 39m in the VLC video-loop test. The battery does, however, jut out rather ungainly from the rear. When looping PCMark05 for 20 minutes the left side of the keyboard also got rather warm.
HP must have a stash of 802.11g cards it needs to get shot of as the Mini 210 lacks 802.11n wireless, which is a big disappointment. Meanwhile, those who like to tinker with their netbooks' innards will be disappointed to learn the Mini 210 is very difficult to open up and there are no quick-release panels on the underside.
Verdict
There's plenty to like about the Mini 210, not least the excellent keyboard. However, 802.11g wireless and a dodgy touchpad design hold it back. ®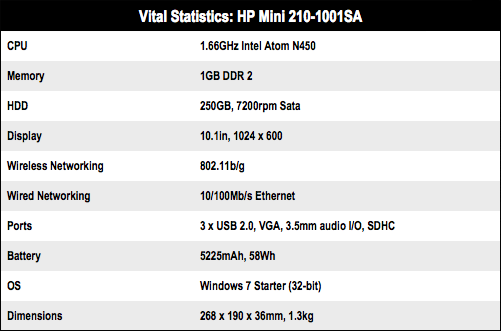 HP Mini 210
A netbook with a faster-than-average hard drive.