Lenovo IdeaPad S10-3
The ThinkPad of netbooks?
Review With a chequered design on the lid, Lenovo's S10-3 certainly stands out from the crowd. It has a few differences inside too, and this model - the M33DDUK - benefits from a built-in 3G module. Slip in a Sim card and the internet will follow you on your travels. The S10-3 isn't picky as to which mobile operator you're with, and it's a great feature to have on a netbook.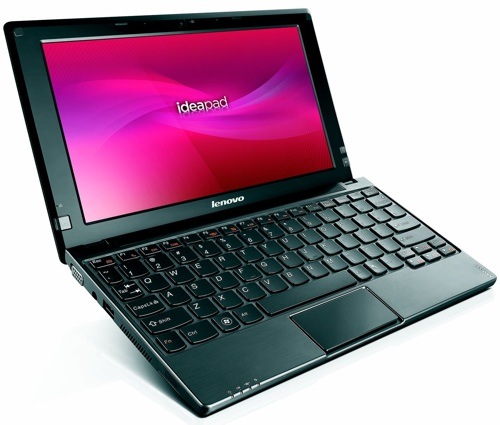 The keyboard is good, with large, responsive keys. Those used to ThinkPads will no doubt be happy with the Ctrl and Fn keys situated the way they are - Fn on the left, Ctrl on the right - but I found it to be a complete pain and spent most my time whacking the wrong key.
However, it's the touchpad that really drags this netbook down. Not only is it smaller than average, it's also woefully designed. The touchpad and buttons take the form of a single panel – leave one finger resting on a button section and you'll find the touchpad won't recognise your finger movements. Worse still, the buttons require far too much pressure. Make no mistake: this is a truly shocking touchpad design.
Booting direct into the Linux-based Splashtop OS serves up a web browser in around 30 seconds.
Verdict
Reasonable battery life and the added bonus of built-in mobile broadband make the S10-3 an enticing netbook, but it's also pretty expensive and the touchpad is one of the worst I've ever used. ®
Thanks to Laptops Direct for the review sample.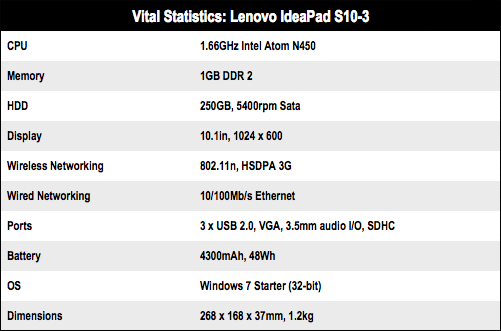 Lenovo IdeaPad S10-3
A 10.1in netbook with built-in mobile broadband.